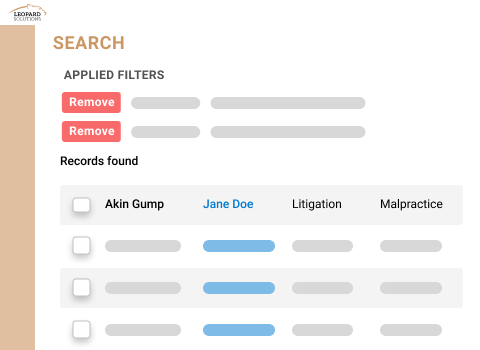 The Leopard List
The Leopard List is an online attorney database providing the most current and historical data points on top lawyers including law school, JD year, admits, memberships, gender, and ethnic diversity as well as other research filters.
Trusted data you can rely on
Leopard List delivers comprehensive data on top attorneys from leading law firms across the United States and internationally. The Leopard List is specifically designed with comprehensive data points in order to serve the specialized needs of your legal market research, talent acquisition, business development, and marketing.

Grow With Confidence
The Leopard List's comprehensive data set allows you to discover the right attorney at the time of need.  Search multiple ways and refine your search to a granular level to uncover the right person for your opportunity.  The attorney history can help you vet their resume and see their past employment patterns.  With over 4,200 firms, our database is the largest available system of its kind and can help you uncover more attorneys in more areas.

Updated Semi-Weekly
Each week you can see both large and small changes in the database. Thousands of records are updated each week as practices change, admits are added and people come and go.  Subscribers can see the changes highlighted in the database and see who recently joined or left a firm.  Our twice-weekly updates will keep you on top of the legal market as well as individual changes as they happen.

Know the Story
Discover career history usually omitted from self-reported sites and CVs. Know the entire story, see where attorneys have been – understand where they've been; steer the conversation.
Verified Legal Intelligence
Knowing there is a team working to make sure the data helping run your business is correct, provides you the confidence you need to know that you are making the best data-driven decisions.  The Leopard List attorneys and our constant updates feed our intelligence programs and provide the best market analysis of hiring and other trends.
Build
Build a robust pipeline of interested and incentivized candidates who are best suited for your position.  Dig into their history for their past employment patterns, print out a CV to pass along to management, save lists in our worksheets, calendar appointments – all from The Leopard List.
Customize
Customize your attorney search with common data points like gender, law school, JD year, and admit but also search memberships and associations for diversity and inclusion initiatives.
Predict
Predict potential lateral moves to maintain firm retention rates and save on talent acquisition costs among other HR-related operational costs.
Track
Track lateral moves to better position yourself and maintain growth initiatives. Discover potential trends in lateral movement by practice area, geographic location, specialty, or law firm.
The Leopard Solutions Difference
Leopard Solutions provides unparalleled, current, and historical data that is updated and verified on a weekly basis by our attorney data experts. We have an expert team available to assist you with your needs, offering unlimited training and support to ensure your success.

A law firm directory offering market research on all top domestic and international law firms. Firmscape offers curated reports with the ability to drill down to the attorney level for a 360° overview of any firm including your own. Control the narrative of your firm with a bird's eye view of where you stand.

Provide your clients with the data they need to make the best decision. Leopard Job Search is an online portal providing real-time updates Monday through Friday as we monitor law firm openings several times each day. Leopard Jobs allows you to research all open, closed, or changed jobs and to set custom alerts so you never miss a new opportunity.

One of the largest and most accurate legal corporate counsel directories built on the same great platform as Leopard List. Leopard InHouse provides a unique repository of actionable data that can be used for all your business development and growth needs.
Find out why we are the most trusted legal database provider in the industry.