Leopard Top 250
Scroll to see the entire list and view scores
Scores as of 1st June 2023

Firm Name
Score
Status
The Legal Industry's Most Inclusive and Up-to-Date Law Firm Rating System
In today's fast-paced world, a ranking system that changes as the facts change is of critical importance. Just as you wouldn't read a month-old newspaper, you should not make decisions based on old data.
The 2022 Leopard Law Firm Index Name the Top Law Firms Based on Growth and Stability – Leopard Solutions is pleased to announce the top law firms of the 2022 Leopard Law Firm Index. View the complete list of firms that have achieved the overall top 200 rankings here.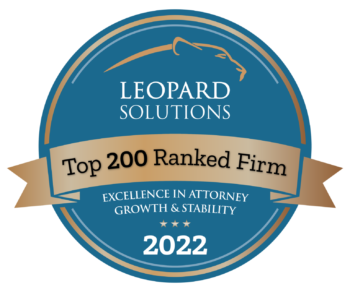 Leopard Law Firm Index is a dynamic rating system for law firms based on uncompromised, quantitative datasets that are numeric and weighted proportionately to the size of the firm. The Leopard index is not fixed on any one set of firms, it is a rating system of all Leopard Solutions firms ranked for profitability, viability, growth, and potential opportunity.  The law firm index will change as data changes and provides an overview of how firms are doing in real-time.
The Leopard Law Firm Index is based on key weighted indicators of law firm sustainability and eliminates the bias for relative law firm size. These factors include: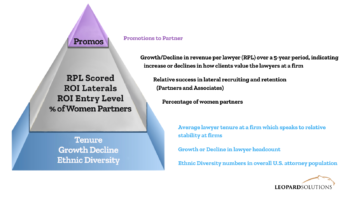 Growth or decline in attorney headcount
Average attorney tenure
Increases or decreases in revenue per lawyer (RPL) over a five-year period
Relative success in lateral recruiting and general retention (partner and associates)
Relative success recruiting and retaining entry-level attorneys
Promotions to partner
Ethnic diversity within the firm
Percentage of women partners
---
The Leopard Law Firm Index was created to provide a unique insight into each firm in our database. Our ranking metrics were formulated to provide a true picture of firm stability by using data that was not 'gameable' by the players in the industry. Solutions to improve the index score for individual firms will vary and are based on each firm's history, capabilities, and aspirations. This is an ever-changing metric as firms change throughout the year.
We see firms each year that go under but yet are still ranked among the top firms in the country. We also believe that financials do not tell the entire story about firm health. We have compiled the data points that we believe more accurately reflect a firm's strengths and weaknesses. Better underlying data can provide better insight and a more accurate outlook for each firm. Having better insight is essential in planning, forecasting, and ensuring success.
Leopard Solutions clients with access to the Leopard Law Firm Index, as part of their subscription to Leopard BI, can look behind the numbers and see what is driving each firm's score. They can also benchmark their own firm against their competitors. Our ranking system is applied to all firms in our database in order to give a more in-depth view of the legal marketplace. Scores change as the firm changes and knowing what is driving that change can be important when choosing a firm for representation or making a career decision.