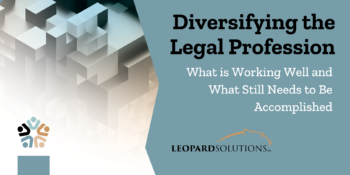 The legal industry plays a crucial role in shaping society and ensuring justice. But its lack of diversity has led to limited perspectives, unequal representation, and systemic biases. To serve our diverse society effectively, the legal profession must reflect the communities it serves. While diversity numbers within the legal profession have been improving, more can be done.
Advancing Diversity in the Legal Profession and Strategies for Change
Leopard Solutions has been compiling legal hiring and promotions data for decades and its diversity filter has aided the industry in hiring under-represented groups.  Currently, we are looking to assess the state of diversity within the industry, the fairness in employment, and partnership promotion for under-represented lawyers. We invite Diversity, Equity & Inclusion (DEI) professionals working in law firms to participate in our survey to gain insight into the state of DEI programs across the industry and what are the next steps to continue to improve diversity within the industry.
Incorporate law firm data through a variety of reports, analyzing current and historical data on lateral movement, attorney promotions, corporate representation, growth and decline of headcount, law firm diversity, and law firm financials with
Leopard Firmscape.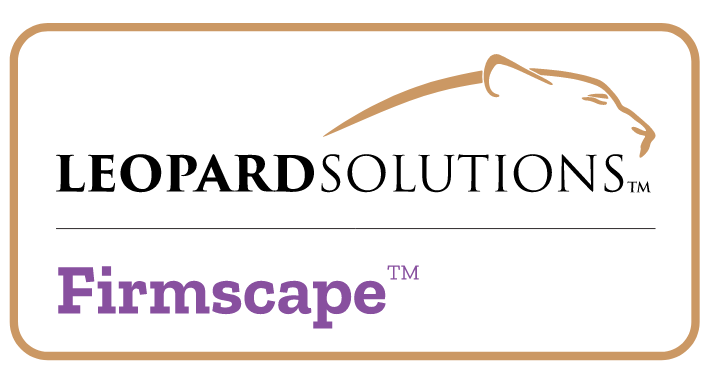 Leopard Solutions Platform Allows Users to
Search

for attorneys with a high probability of ethnic or gender diversity 

Access

law firms' diversity level 

Benchmark

across firms by diversity probability levels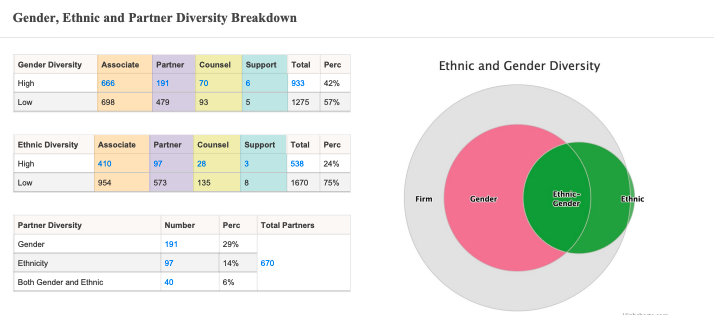 Leopard Solutions Insights on Diversity
The Challenges of Women in Big Law
Women Leaving Law
What is the Legal Industry Doing with Diversity