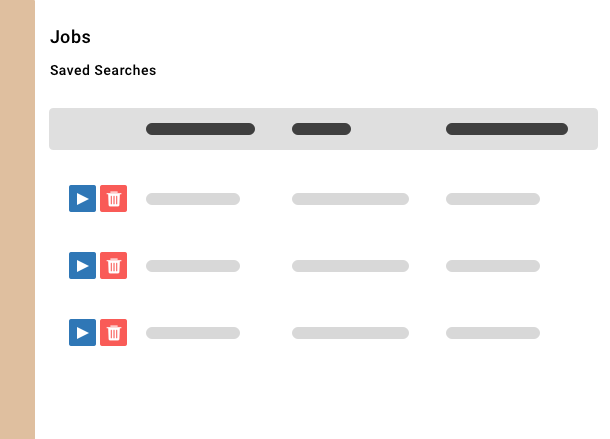 Leopard Job Search
Leopard Job Search is an online portal that provides current and historical attorney job posts for market research, competitive intelligence and attorney placement. Provide clients with the data they need to make the best decision.
What are you up against?
Get the data you need, armed with the knowledge you want so your firm is ready to act. Control the narrative of your job ad, the legal jobs market, your business.

Experience
With nearly 15 years of legal jobs market data, create reports to see the rise and fall of practice areas, geographic strong holds, and other market emerging trends

Remain Alert
Design specific alerts to keep an eye on competing firms, clients, or specific job posts; manage opportunities and stay ahead of the curve with alerts designed to maintain your competitive edge.

Reporting
Create live worksheets with current or historical data to spot trends, changes, or market shifts by location, practice area, or any number of firms on your radar. Use this data to inform market reports.
Leopard Job Search Provides Great Features Such As:
Real-Time Alerts
Customizable alerts give you the edge to fill jobs up to four hours before the competition. Get alerts on current, new, and modified jobs (open to recruiters, closed, etc.) in the US and internationally.
Workflow Efficiencies
Annotate job posts, save and reuse search criteria, and link to the original job posting so you can keep organized maintain efficiency.
Smart Search Functions
Search all open, current, and closed job posts to gain market insight; sort by date, see recent changes, shifts, and rising trends to better position yourself in front of your candidate or client.
Collaborative Tools
Match attorneys to jobs with a click using Leopard's match to attorney tool to minimize time spent searching for candidates and maximize efficiency.
The Leopard Solutions Difference
Leopard Solutions provides unparalleled, current, and historical data that is updated and verified on a weekly basis by our attorney data experts. We have an expert team available to assist you with your needs, offering unlimited training and support to ensure your success.

The most comprehensive database of top attorneys from leading law firms across the United States and internationally.  It is comprehensive in both the data points available on each attorney as well as the scope of firms included. It is extensive in both the amount of data available on each attorney as well as the scope of firms included.

A law firm directory offering market research on all top domestic and international law firms. Firmscape offers curated reports with the ability to drill down to the attorney level for a 360° overview of any firm including your own. Control the narrative of your firm with a bird's eye view of where you stand.

One of the largest and most accurate legal corporate counsel directories built on the same great platform as Leopard List. Leopard In-House provides a unique repository of actionable data that can be used for all your business development and growth needs.
Find out why we are the most trusted legal database provider in the industry.