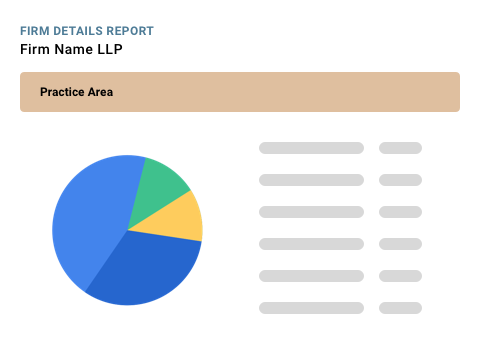 Firmscape

Unmatched Competitive Intelligence on Law Firms

Leopard Firmscape is your gateway to unparalleled competitive intelligence in the legal industry incorporating law firm data through a variety of reports, analyzing current and historical data on lateral movement, attorney promotions, corporate representation, growth and decline of headcount, law firm diversity, and law firm financials. Updated twice a week, Leopard Firmscape is the go-to resource for law firm data-driven research.
Unlock Legal Market Trends
In a rapidly evolving legal landscape, having the right data at your fingertips is crucial. Leopard Firmscape empowers you to gain valuable insights into legal market trends, enabling law firms to strategically position themselves against competitors. Placement professionals can also use the platform to connect law firms with potential candidates who are the perfect fit.
Customize Your Analysis
Our platform offers a versatile toolbox with 20 distinct reports, allowing users to tailor their analysis to specific needs. The centerpiece is our comprehensive 'Firmscape' report, providing a holistic 360º view of a law firm's data points in a single, convenient download.
Stay Ahead of the Game.
Firmscape Now includes 20 reports and can include both current and historical information.
Our 360 view of law firms across our entire database. Diversity information, practices, lateral and growth statistics available in one place. See More
In one view, see who is leaving and who is entering a law firm. See where they went when they left and where they came from. See More
Looking for conflicts? Need to understand who a law firm represents? This report can help answer those questions. See More
This is a dynamic report card on firm growth and losses with incredible detail. See More
How well do you hire? This is the report card on hiring for both lateral and entry-level hires. Where are the problem areas? See More
See movement trends. Where do attorneys in California move to most often? Who migrates to New York? See More
The Leopard Solutions Difference
Leopard Solutions provides unparalleled, current, and historical data that is updated and verified on a weekly basis by our attorney data experts. We have an expert team available to assist you with your needs, offering unlimited training and support to ensure your success.

The most comprehensive database of top attorneys from leading law firms across the United States and internationally. It is comprehensive in both the data points available on each attorney as well as the scope of firms included. It is extensive in both the amount of data available on each attorney as well as the scope of firms included.

Get the data you need to make the best decision. Leopard Job Search is an online portal providing real-time updates Monday through Friday as we monitor law firm openings several times each day. You can generate analytical reports on job opening and closing trends. For legal recruiters, provide insights to your clients to help them make good hiring decisions. Leopard Jobs allows you to research all open, closed, or changed jobs and to set custom alerts so you never miss a new opportunity.

One of the largest and most accurate legal corporate counsel directories built on the same great platform as Leopard List. Leopard In-House provides a unique repository of actionable data that can be used for all your business development and growth needs.
Find out why we are the most trusted legal database provider in the industry.