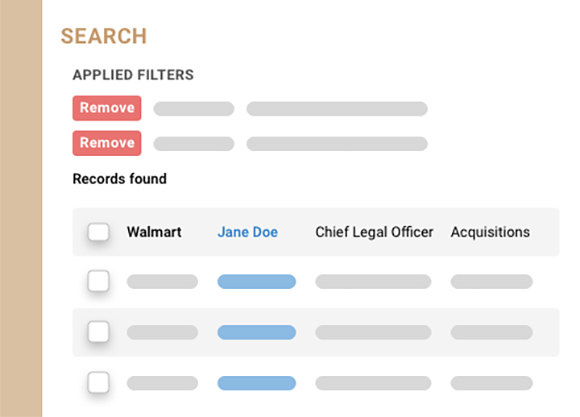 The Leopard List Attorney Database
The Leopard List is an online attorney database providing the most current and historical data points on top lawyers including law school, JD year, admissions, memberships, gender and ethnic diversity as well as other research filters.
Trusted data you can rely on
Leopard List delivers comprehensive data on top attorneys from leading law firms across the United States and internationally. The Leopard List is specifically designed with comprehensive data points in order to serve the specialized needs of your legal market research, talent acquisition, business development, and marketing.

Grow With Confidence
The Leopard List's comprehensive data set allows you to create rich, dynamic and targeted lists for use throughout your organization. The Leopard List allows you to pinpoint more of the right attorneys at more law firms and locations than any other search directory. Further, refine your searches to include gender and ethnic diversity to uncover more attorneys for your opportunity.

Updated Twice a Week
The Leopard List is updated twice a week to better and more accurately reflect the changes in the legal industry. Thousands of records are updated and refreshed as practices change, lawyers are admitted to the bar and attorneys come and go. All changes are marked and highlighted so you can keep your finger on the pulse of the legal market as changes happen.

Tell the RIGHT Story
Discover historical attorney insights, gain a deep understanding of the individual potential with the ability to search the database on any number of search features and filters including memberships, associations, JD year, undergraduate or law school, gender and ethnic diversity.
Peace of Mind
Knowing there is a team on your side making sure the data is accurate provides you with the confidence you need to make the best data-driven decisions for your organization. Our twice-weekly updates ensure that you are informed and have the latest attorney information for your business needs.
Build
Create a robust pipeline of attorneys for lateral recruitment, business development, or competitive intelligence and dig into their histories for deeper insights. Save your searches, make notes, add to your live worksheets, color code, connect with LinkedIn, or email without leaving The Leopard List.
Customize
Customize your attorney search one of two powerful search engines or stack your searches for even greater potential. Find attorneys with a high probability of gender or ethnic diversity for DEI efforts and other diversity initiatives.
Predict
Predict potential lateral moves to maintain firm retention rates and save on talent acquisition costs among other HR-related operational costs.
Track
Track lateral moves to better position yourself and maintain growth initiatives. Discover potential trends in lateral movement by practice area, geographic location, specialty, or law firm.
The Leopard Solutions Difference
Leopard Solutions provides unparalleled, accurate, current, and historical attorney data that is maintained and updated by a team of data experts available to assist you with any of your search and reporting needs. We offer personalized training and webinars to help you get the most out of your subscription and ensure your success.

A law firm directory offering market research on all top domestic and international law firms. Firmscape offers curated reports with the ability to drill down to the attorney level for a 360° overview of any firm including your own. Control the narrative of your firm with a bird's eye view of where you stand.

Provide your clients with the data they need to make the best decision. Leopard Job Search is an online portal providing real-time updates Monday through Friday as we monitor law firm openings several times each day. Leopard Jobs allows you to research all open, closed, or changed jobs and to set custom alerts so you never miss a new opportunity.

One of the largest and most accurate legal corporate counsel directories built on the same great platform as Leopard List. Leopard InHouse provides a unique repository of actionable data that can be used for all your business development and growth needs.
Use Cases

Develop lists of potential lateral attorney candidates from a database of over 350,000 law firm attorneys, using over 20 search filters, such as practice area, geography, area of expertise, years of experience, law school, client experience, and ethnic and gender diversity.

Create targeted lists of attorneys and senior decision-makers at over 5,000 law firms, using over 20 search filters for marketing and sales outreach.

Connect with law school alumni for fundraising, development, and career placement opportunities for current students by creating targeted lists using over 20 search filters including law school and undergraduate schools as well as the year the attorney received their JD. 

Find out why we are the most trusted legal database provider in the industry.