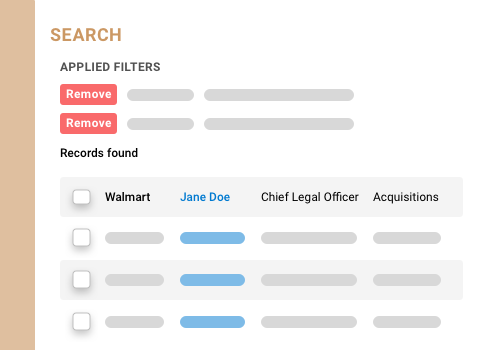 Leopard InHouse
Leopard InHouse is one of the largest corporate counsel databases in the U.S. Built on the same great platform as The Leopard List, the Leopard corporate counsel directory is vigorously vetted and maintained up to date by our proprietary algorithm and a team of legal market data experts. Leopard InHouse is specifically designed to serve the specialized needs of your corporate counsel research, business development, sales, marketing, and talent acquisition.
What Leopard InHouse can do for you

Recruit
In-house counsel recruiters are now armed with a comprehensive list of corporate counsel, employment history including lateral origin firms to fill their talent pipelines.  Search by focus area, law school, title and much more.

Develop
Law firm and corporate subscribers have access to an extensive database that includes executive-level counsel for business development, market research, and other service offerings.

Connect
Legal marketers can connect with confidence to corporate counsel for thought leadership, networking, and other legal marketing events.
With Leopard InHouse You Can:
Connect With Confidence
Connect with corporate counsel with confidence that you have as much, if not more information about your prospect than your competitors.
Leverage Your Network
Uncover links and connections between you, your firm, and corporate counsel with historical data including lateral origin firms, school information, focus areas, and more.
Discover New Markets
Discover new verticals for your services. Search through industries, over 7,000 companies, or work your way to contact any of the nearly 80,000 attorneys who can use your expertise
Research the Competition
See who you're up against and research the competition, the attorneys on their team, their history, education, admit and more. Cross-reference with Leopard List for even more data.
The Leopard Solutions Difference
Leopard Solutions provides unparalleled, current, and historical data that is updated and verified on a weekly basis by our attorney data experts. We have an expert team available to assist you with your needs, offering unlimited training and support to ensure your success.

The most comprehensive database of top attorneys from leading law firms across the United States and internationally.  It is extensive in both the amount of data available on each attorney as well as the scope of firms included.

A law firm directory offering market research on all top domestic and international law firms. Firmscape offers curated reports with the ability to drill down to the attorney level for a 360° overview of any firm including your own. Control the narrative of your firm with a bird's eye view of where you stand.

Provide your clients with the data they need to make the best decision. Leopard Job Search is an online portal providing real-time updates Monday through Friday as we monitor law firm openings several times each day.  Leopard Jobs allows you to research all open, closed or changed jobs and to set custom alerts so you never miss a new opportunity.
Find out why we are the most trusted legal database provider in the industry.