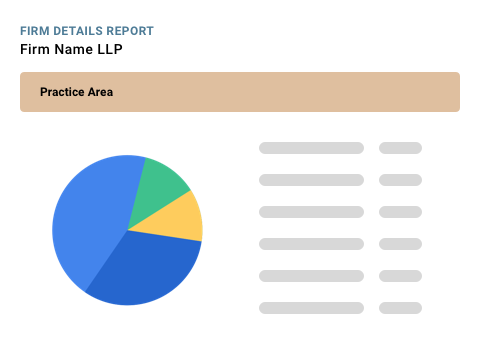 Firmscape
Leopard Firmscape offers market research and curated reports on all top U.S. and international law firms with the unique ability to drill down to the attorney level for a full 360° overview of any firm and its attorneys.
What can Firmscape do for you?
The right data can help you have a clear understanding of the current legal market and uncover trends so that you can position your firm, strategize for growth and sharpen your competitive edge by keeping a closer eye on your competition.  Create a successful data-driven narrative that will sway candidates in their final choice.  Knowing where you stand among your peers is essential in the correct positioning of your firm. Firmscape provides essential insight with our vast library of historical firm and attorney data.  Data gives you the insight you need to act.

Powerful
Firmscape is a powerful, competitive intelligence tool that enables you to measure, forecast, and assess the strengths and weaknesses of the market for financial success.

Informative
Keeping a watchful eye on the competitive legal landscape provides you with profitable knowledge at your fingertips. Firmscape is the easiest, quickest, and most cost-effective way for you and your team to get high quality, real-time information on top U.S. law firms that is not commonly available online.

Focused
Track current information and uncover historical data on thousands of top U.S. and international law firms, with special emphasis on the Top 200. Firmscape provides a bird's eye view of your firm and the competition so you can be in control of the narrative of your firm and help them build a positive narrative to motivate a candidate for new opportunities.
Benchmark
Benchmark the health of your firm. Get a look at competitive firms and assess the health of the industry.  Uncover hiring trends, set alerts to learn about your competitor's actions like hiring, new offices, gender diversity and changes in their Growth/Decline number.
Protect
Spot market shifts, plan for changes and protect your business. Identify emerging competitors while keeping an eye on attorney movement. Note big changes that may affect your firm.
Plan
Uncover new opportunities including locations on the rise, new competitive office openings, and plan for your firm's growth.  See who is being hired and with what skill set.  Find new opportunities in the success or failure of others.  Use data to formulate a sensible growth plan.
Monitor
Identify emerging competitors, conduct M&A due diligence, and monitor by setting alerts based on location, lateral movement, growth or decline.  Set email alerts on new office openings, new hires, laterals, promotions and more.  Don't let changes in your competing firms slip by unnoticed.
The Leopard Solutions Difference
Leopard Solutions provides unparalleled, current, and historical data that is updated and verified on a weekly basis by our attorney data experts. We have an expert team available to assist you with your needs, offering unlimited training and support to ensure your success.

The most comprehensive database of top attorneys from leading law firms across the United States and internationally.  It is comprehensive in both the data points available on each attorney as well as the scope of firms included. It is extensive in both the amount of data available on each attorney as well as the scope of firms included.

Provide your clients with the data they need to make the best decision. Leopard Job Search is an online portal providing real-time updates Monday through Friday as we monitor law firm openings several times each day.  Leopard Jobs allows you to research all open, closed or changed jobs and to set custom alerts so you never miss a new opportunity.

One of the largest and most accurate legal corporate counsel directories built on the same great platform as Leopard List. Leopard In-House provides a unique repository of actionable data that can be used for all your business development and growth needs.
Find out why we are the most trusted legal database provider in the industry.