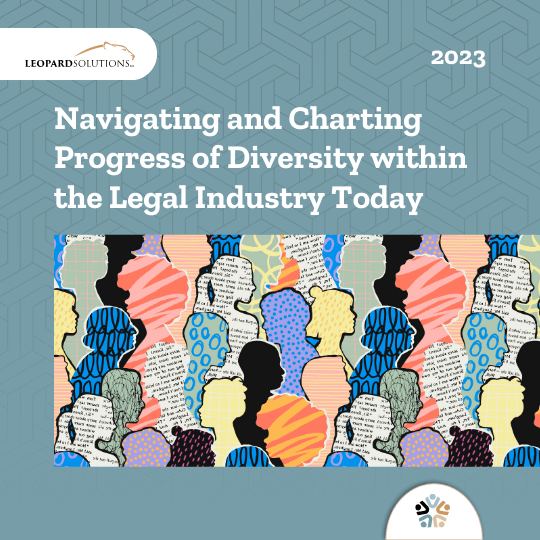 Diversity In Law White Paper - Leopard Solutions
Actionable Intelligence for Building a More Equitable Legal Landscape
Our latest highly anticipated diversity in law white paper, "Navigating and Charting Progress of Diversity within the Legal Industry Today," is now available!
Diversity and inclusion have emerged as paramount concerns in an ever-evolving legal arena. Following the recent Supreme Court ruling on affirmative action and lawsuits urging firms to transform their hiring practices, we surveyed over 50 DEI professionals, including department heads, to gather their views on the Supreme Court decision and how it might impact DEI initiatives. This report sheds light on the challenges faced by firms and highlights actionable changes diversity leaders want to see from the firms.
Ethnic Diversity Growth:

A five-year snapshot of the Leopard Solutions database reveals a 22.6% increase in ethnically diverse hires since 2019.

Challenges Ahead:

64% of Diversity in Law survey respondents

anticipate

increased difficulty in their roles due to the Supreme Court decision.

Gender Diversity Trends:

Gender-diverse lateral hiring

peaked in 2021, decreased in 2022, and has remained low in 2023.

Top 200 Firms:

These firms hired more ethnically diverse graduates in 2022-2023 than in the prior two years but sourced fewer

from the top 14 law schools.
Join Us in Driving Change:
We blend survey data, real-life stories, and analysis from the Leopard Solutions database, offering insights for law firms striving for inclusivity. Complete the form and download the report for practical strategies to promote fair workplace cultures for underrepresented groups.
Explore our latest Diversity in Law webinar featuring DEI professionals and Laura Leopard, CEO of Leopard Solutions: Watch Now