Leopard Intelligence Resources
We're committed to providing up-to-date research and data on legal industry topics that matter to you. From webinars and infographics to research reports and articles, Leopard Solutions is your source for the legal
intelligence you need.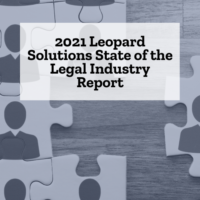 The 2021 State of The Legal Industry Report
January 21, 2022
An in-depth analysis of the legal industry in 2021, this paper provides a deep analysis of trends seen in 2021 and insight from industry experts. It reviews lateral hiring, law firm diversity, the cities with the most growth, law firm growth, and more.
Subscribe to our newsletter