Leopard Intelligence Resources
We're committed to providing up-to-date research and data on legal industry topics that matter to you. From webinars and infographics to research reports and articles, Leopard Solutions is your source for the legal
intelligence you need.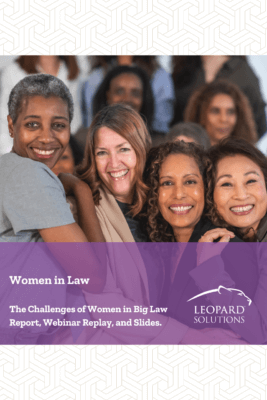 The Challenges of Women in Big Law Report 2023
May 31, 2023
The Leopard Solutions Women Leaving Law 2022 report showed that a large number of women are choosing to leave Big Law at the peak of their careers. Conversely, more women are being hired than men out of law school. Their exits at the later career stage could pose future risks to firms. We recently surveyed women currently working in the Top 200 firms to get their insights directly, and combined with an in-depth analysis of the Leopard Solutions database to offer key strategies that law firms should consider implementing. Get the report to gain an understanding and insights into how to combat this trend.
Subscribe to our newsletter