Leopard Solutions Data Shows Skyrocketing Demand for Lawyers and Highest Number of Open Legal Jobs in Years
May 18, 2021
Leopard Solutions' research shows a skyrocketing demand for lawyers at all levels at firms across the nation.
Our database currently has more than 8,000 current openings (a growth of 150% jobs since the start of the pandemic) – this is higher than our pre-pandemic levels.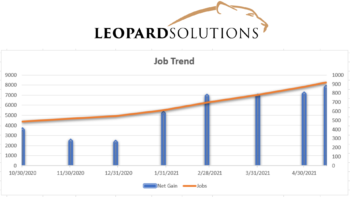 Some statistics to note:
Since January 1, 2021, we've seen a staggering 70% growth in open attorney jobs (from 4,873 as of January 4 to 8,268 as of May 14).
Since October 1, 2020, there's been an increase of 106% in open attorney jobs.
During the attorney growth period of 2017 to the end of 2019, on average there would be between 6,000 and 6,500 open jobs at any one time. Currently we have more than 27% open jobs since then.
This means that firms are once again investing in talent and replenishing their lawyer ranks after more than a year of being cautious in hiring due to the pandemic.
The challenge for law firms will now be how to source candidates in a competitive market as well as how to retain their people.
Laura Leopard, CEO and Founder of Leopard Solutions says, "Firms need to plan ahead now to hold onto their lawyers in anticipation of their people potentially being poached to other firms. For those firms seeking new hires, be creative and look beyond the top 100 firms to mid-size and smaller firms for talent. We have over 4000 firms in our Leopard Law Firm Index from which firms can choose candidates."
Although business is booming for recruiters in the legal market, they are facing stiff competition for talent and hiring at a rate they haven't seen in years. What this means is that cultivating relationships and access to relevant data matters more than ever.
Our Leopard List law firm attorney search platform can help both in-house hiring managers and legal recruiters support their law firm hiring needs.
The Leopard List enables clients to find candidates to fill open jobs and receive updates three times per day as new jobs are added to our database.
Our diversity filter enables recruiters to help law firms find more diverse hires.
Contact Phil Flora, Vice President of Sales and Marketing to learn more.