Showcase Your Inclusion on the Leopard Top 250 List with Free Recognition Badge
May 5, 2021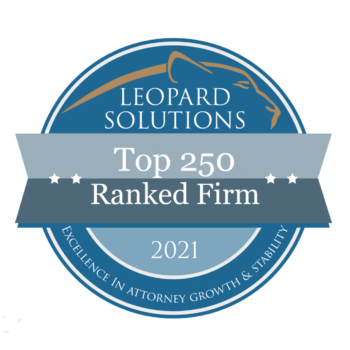 Showcase your firm's selection on the Leopard Top 250 list by placing this badge on your web site and on social media. View the current rankings.
The Leopard Top 250 represents the top global law firms based on data collected through The Leopard Law Firm Index, a dynamic ranking of over 4,200 global law firms, with data updated twice a week.  
The Leopard Law Firm Index is based on key weighted indicators of law firm sustainability and eliminates the bias for relative law firm size.
The index changes as data changes and provides an overview of how firms are doing in real-time. All 4,200 firms are given a score — from 0 to 500 — based on the overall health of the firm. The index looks at a variety of factors to create the Top 250 list, including: 
Growth or decline in attorney headcount

 

Average attorney tenure

 

Increases or decreases in revenue per lawyer (RPL) over a five-year period

 

Relative success in lateral recruiting and general retention (partner and associates)

 

Relative success recruiting and retaining entry-level attorneys

 

Promotions to partner

 

Ethnic diversity within the firm

 
 Learn more about the Leopard Law Firm Index and Top 250 List.  
 For more information/questions, contact Phil Flora, Vice President of Sales and Marketing at phil@leopardsolutions.com.