Law360 Features Leopard Solutions' In-House Counsel Survey
October 26, 2021
Law360 recently featured Leopard Solutions' 2021 In-House Counsel Survey in a feature article.
The article noted that law firms looking to catch the attention of general counsel should focus more on offering topical webinars and valuable and meaningful content, and less on blanketing them with news releases.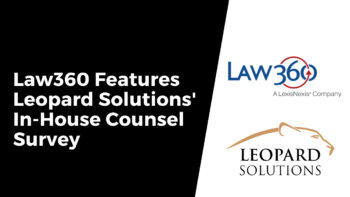 Legal expertise and responsiveness were very important considerations for 91% of respondents when it comes to choosing outside counsel, with cost cited as a very important factor by 40.1% of those who took the survey.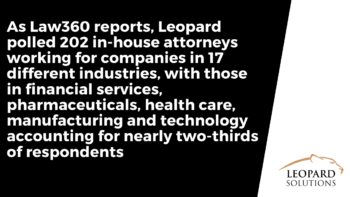 As Law360 reports, Leopard Solutions polled 202 in-house attorneys working for companies in 17 different industries, with those in financial services, pharmaceuticals, health care, manufacturing and technology accounting for nearly two-thirds of respondents, according to the report. Nearly two-thirds also said their companies have annual revenue of over $1 billion.
While some attorneys reported beginning to work for a company right after graduating from law school, the highest number made the jump seven years after obtaining their degrees, suggesting that by that point, lawyers either anticipate that they will not become partners or they think that switching to an in-house role will allow them to maintain a better work-life balance.
Longstanding relationships, referrals and a firm's name or reputation trailed cost and expertise as factors for choosing outside counsel, with mentions in legal guides cited as very important by only 2.5% of respondents.