Laura Leopard Featured in Wall Street Journal Article on Increase in Entry-Level Associate Salaries to $200K Per Year
June 12, 2021
Laura Leopard, CEO and Founder of Leopard Solutions, was recently featured in a Wall Street Journal article by Sara Randazzo on the news that several top law firms have increased entry-level lawyer salaries to $200K per year. The news of the increase in junior associate pay comes after a year of record-breaking profits and competition to retain their workforce that has billed long hours at home during the pandemic.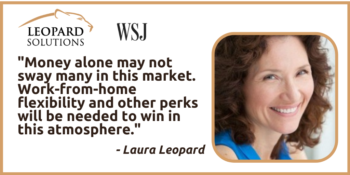 As the article notes and Leopard's research has found that large law firms fared well financially during the pandemic. Many reported double-digit profit gains for partners, thanks to a boom in transactional work and drops in expenses as lawyers no longer flew around the world to meet with clients.
The article reports the following firms have made salary increases in the past few days:
Milbank LLP
Cadwalader, Wickersham & Taft LLP
Mintz, Levin, Cohn, Ferris, Glovsky and Popeo PC
Proskauer Rose LLP
In addition, many law firms have also paid associates bonuses during the pandemic.
Law firm leaders say they are in a fight for top talent as higher-than-usual attrition rates during the pandemic leave them needing even more lawyers to churn out work.
There are more than 9,000 job listings for lawyer and staff roles posted on law firm websites, according to legal intelligence firm Leopard Solutions, more than it has ever tracked before.
Laura said, "Money alone may not sway many in this market…Work-from-home flexibility and other perks will be needed to win in this atmosphere."
Join us for a webinar on June 15 where Laura and leaders in the legal industry will explore the boom in legal hiring.