Leopard Solutions Webinar: The Great Resignation and the Great Retention – A Review of the 2021 Booming Legal Hiring Market and Predictions of What's to Come in 2022
December 7, 2021 @ 1:00 pm
Location: Virtual
Event Type: Webinar
2021 was unprecedented in countless ways. Leopard Solutions' research shows the demand for lawyers at all levels reaching an all-time high this year as law firms across the nation expanded attorney job searches to make up for the slow growth they experienced last year due to the COVID-19 pandemic.
The increase in demand for lawyers has also made it more challenging for law firms to compete for qualified candidates and retain their legal talent.
Attracting, engaging and retaining the people you need to drive growth will be critical to your firm's success in 2022 and beyond. But where to start?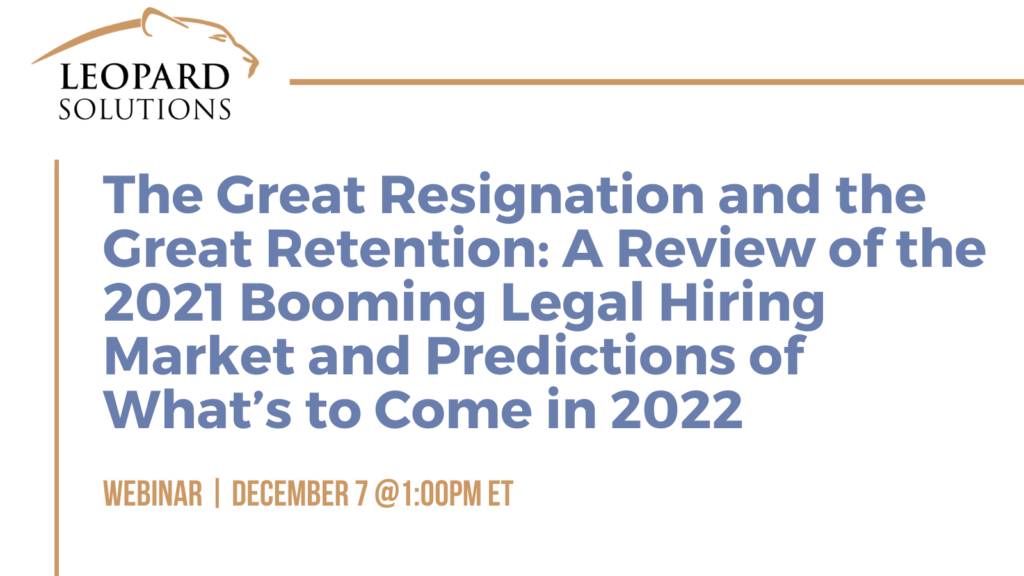 Join Leopard Solutions and a panel of legal industry leaders on December 7 at 1pm ET for insights on how the legal industry fared in the recruiting and retention of lawyers, and meeting the demand of clients and where firms and recruiters can go from here. We will discuss:
The challenges and opportunities for law firms, legal recruiters and candidates in the current booming environment
How to source and compete for candidates at all levels in a competitive market
How law firms can better retain their people
What can law firms expect in 2022 when it comes to legal recruiting and retention
Speakers