Laura Leopard to Speak at the Thomson Reuters 2021 Emerging Legal Technology Forum
November 4, 2021 @ 3:30 pm
Location: Virtual
Event Type: Webinar
On Thursday, November 4, Leopard Solutions CEO and Founder Laura Leopard will speak at the Thomson Reuters 2021 Emerging Legal Technology Forum held both in person in Boston and virtually.
This forum offers a comprehensive look at how a pandemic year has accelerated (or in some instances derailed) the ongoing industry disruption of the past several years.
Laura's panel, "Leading by Design: Examining AI-Assisted Recruiting in Legal Services" will explore how with the battle for talent in legal services entering a new era of competition and how AI-assisted recruiting is helping preeminent law firms and corporate legal departments pull ahead of the proverbial pack.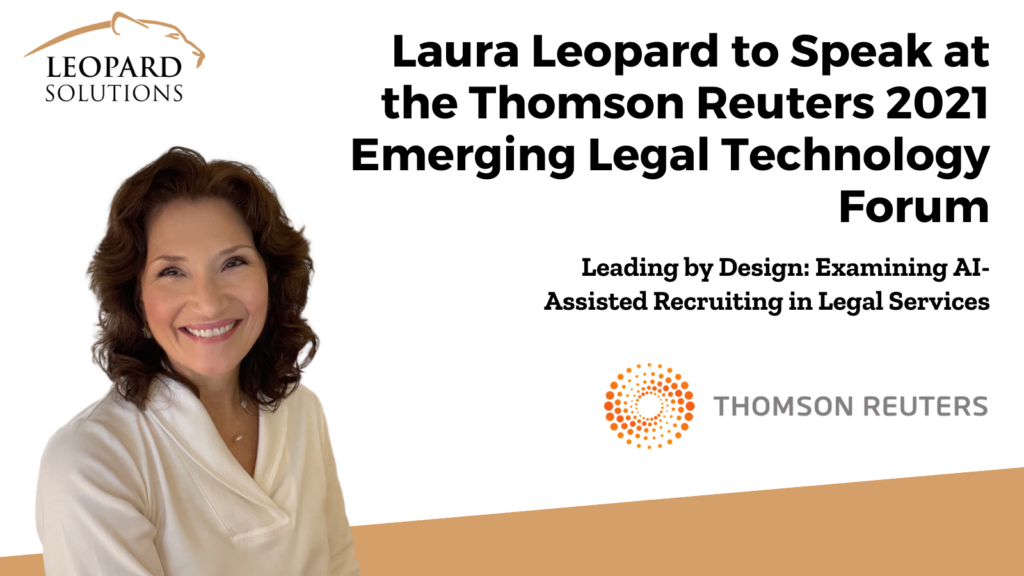 This discussion will explore the cost, opportunities and return on investment of talent acquisition technologies today. The panelists will also discuss the growing popularity of AI-assisted recruiting help accelerate inclusive and sustainable practices across the legal profession.
Laura will be joined on the panel by:
Moderator
Bryan R. Parker, Chief Executive Officer, Legal Innovators
Panelists:
Sang Lee, Chief Executive Officer and Co-Founder, Thine
John A. Nathanson, Partner and Firm Hiring Committee Head, Shearman & Sterling LLP