Practice Group Acquisition Tool
Identify Law Firm Practice Groups As Acquisition Targets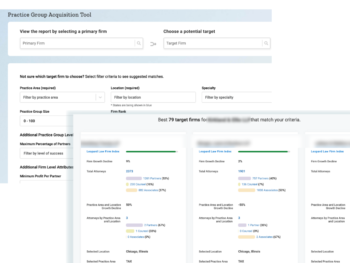 The Practice Group Acquisition Tool supports law firms looking to identify groups of attorneys or practices at other firms to acquire instead of just identifying individual attorneys to hire. 
Coming out of the frenzied job market that began post-pandemic, using the practice area acquisition tool allows firms the ability to grow more strategically. 
In addition to identifying the groups, the tool models what it would look like after the group joins the firm—demonstrating the potential symmetries between the group and the prospective firm and noting any possible areas of concern if the group were to join the firm. 
The Practice Group Acquisition Tool allows firms to identify specific groups that match their set qualifications and see the potential outcomes based on exclusive Leopard Solutionsndata. It also allows firms to identify potential new client opportunities that could be gained by bringing on certain practice groups.