Trends in Law Student Graduate Hiring at the Top U.S. Law Firms
June 21, 2022
June 21, 2022 (New York) – There's been an explosion in demand for legal services since late 2020 with lateral hiring skyrocketing in virtually every practice area.
But how did recent law school graduates from the top schools fare in their efforts to secure entry-level associate positions at leading law firms in the United States?
The good news for the law school class of 2021 — employment rates significantly rebounded from the pandemic-induced slump that hit the previous class, ending up stronger than they were two years ago.
Recent graduates are also enjoying the benefits of accelerated innovation at law firms over the past two years in their efforts to better recruit talent and retain their people.
This includes more flexible work environments, higher compensation packages and more opportunities for education and advancement.
Laura Leopard, Founder and CEO of Leopard Solutions says, "We all know what happened in 2020. In the thick of COVID, law firms just pressed the pause button. They did not do a lot of hiring, they didn't hire a lot of laterals and they also didn't hire a lot of people coming out of law school. So, what we're seeing here is that they're finally hiring those grads who were on pause and the 2021 grads as well."
But with those advances comes challenge – and opportunities — such as how to navigate this new "normal" and effectively managing teams and foster relationship building, networking and mentorship in a hybrid and remote work environment.
Entry-level associates from top law schools can also expect a flurry of calls from recruiters as our research shows a high level of attrition from the graduates from top 10 schools because they are highly sought after, so competition is driving some of the low retention rates we are seeing.
Let's delve deeper into the numbers.
According to our research, in 2021, a total of 14,600 new attorneys joined law firms. Of those, 64 percent were hired into top 200 firms and 36 percent went to firms outside the top 200. In 2021, there were 9,286 graduate hires in the top 200 firms. This is a dramatic increase over both 2020 and 2019, which saw 4,093 and 6,296 hires respectively. While this growth is dramatic, we can surmise that firms are playing catch-up and bringing those on board who were impacted by the 2020 pandemic hiring pause while also meeting their internal needs for additional support due to the increase in legal work.
How has the hiring of diverse candidates been impacted?
More women than men are now attending law schools and entering law firms as new graduates. That was the case in 2021 with women composing 53% of 2021 hires. In top 200 placements, ethnically diverse hires made up 28%.
It's worth noting that while the top 200 remained stagnant over the last three years, under top 200 firms have grown from 20% representation to 23% representation, showing some strides in representation, even in an ultra-competitive environment despite the fact that it's been even harder for firms beyond the top 200 to recruit and retain diverse candidates because Big Law firms are actively striving to hire more ethnically diverse attorneys leaving fewer for under top 200 firms to court.
Laura notes, "We see a smaller slice of the pie representing ethnically diverse females, and even a smaller slice representing ethnically diverse men. We all know that there's still much more work to be done to have a more equitable industry."
Download the full research report for a more comprehensive look at the numbers.
Which law schools had the most success with placing their students at top firms?
In looking at the schools which made the most placements into top 200 firms, we see some of the top schools, but we also notice there are some familiar schools missing.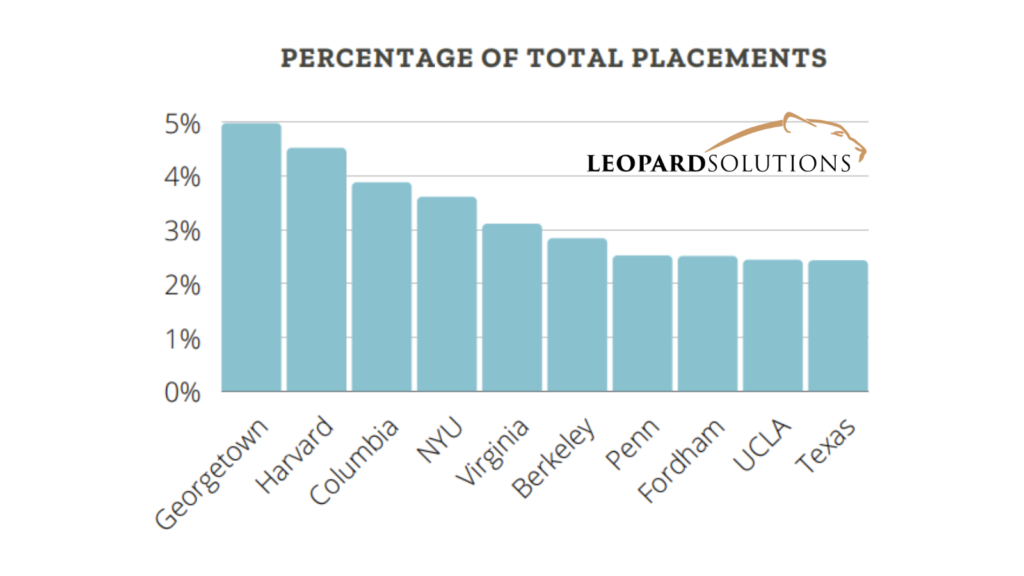 Georgetown made the most placements into top 200 firms, followed by Harvard and Columbia. It is important to note that some of these schools— Georgetown and Harvard, in particular— have much larger class sizes than Stanford and Yale, so that accounts for the high number of students they are placing at top 200 firms.
Exploring the schools that placed the largest number of ethnically diverse attorneys and the most female attorneys, there's still work to be done to have a more equitable industry. Noting large class size again as a factor, we see a reshuffling of the same three schools, Georgetown, Harvard and Columbia leading the way with the most women hires of law students as entry-level associates.
When looking specifically at ethnically diverse attorneys, Harvard had the most placements with over 6 percent of law students at the top 200 firms. In fact, 25.7 percent of ethnically diverse hires came from just five top schools (Harvard, Columbia, Georgetown, Berkeley and NYU).
How successful are these law school graduates at the firms they chose?
Our research found that 20 firms snapped up 58% of all placements from the top 10 schools with Skadden Arps taking the lead for the highest percentage of top placements. See the research report for the full list.
Now for the big question, did those law students make the right decision with regard to the firms they chose?
When talking about success, we are analyzing whether an attorney stays at a firm long enough for the firm to recoup their costs related to recruiting, training and integrating them. Leopard places that mark at three years for associate-level attorneys.
For schools that placed 20 or more attorneys at top 200 firms in 2019, the average success rate was 53 percent. This means that 47 percent of new attorney hires exited their firm before the three-year mark.
Our research showed a dramatic increase in departures as attorneys hit that second-year mark, and a 23% drop, and then another 16-point drop, and they hit that three-year mark with more than half of the new hires from the top 10 schools making a move.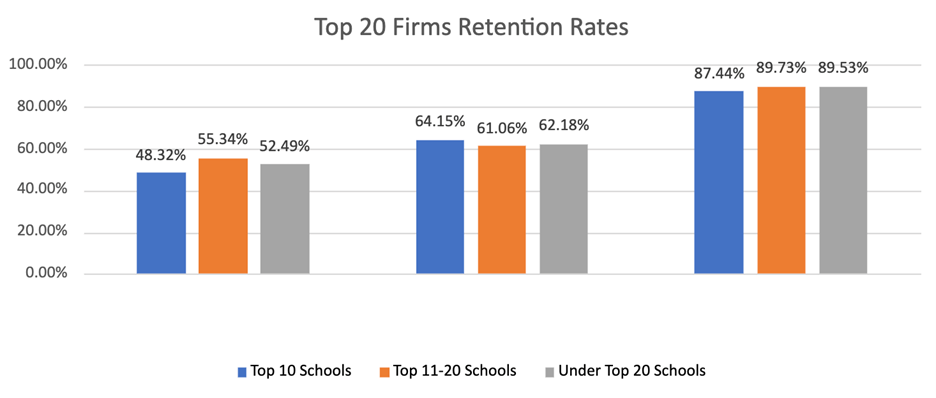 For more insights on law student graduate hiring trends, including which firms students joined within the top 200 firms as well as beyond, which firms had the highest success rates as well as more insights on firms beyond the top 200, read the full research report.