JD Supra Features Leopard Solutions Article on Trends in Law Student Graduate Hiring at the Top U.S. Law Firms
June 21, 2022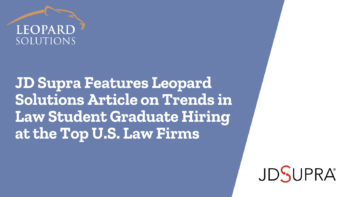 JD Supra published an article by Phil Flora and Laura Leopard on "Trends in Law Student Graduate Hiring at the Top U.S. Law Firms."
In the article, Phil and Laura present research and findings from Leopard's recent law school hiring report.
They explore how recent law school graduates from the top schools fared in their efforts to secure entry-level associate positions at leading law firms in the United States both within the top 200 firms and beyond the top 200.
Laura noted, "We all know what happened in 2020. In the thick of COVID, law firms just pressed the pause button. They did not do a lot of hiring, they didn't hire a lot of laterals and they also didn't hire a lot of people coming out of law school. So, what we're seeing here is that they're finally hiring those grads who were on pause and the 2021 grads as well."
The article includes insights from the speakers on our recent webinar on law school graduate hiring, which included the deans of career services at two leading law schools (William & Mary and Northwestern) and the chief talent officer at Lowenstein Sandler.
Laura also noted that law firms still have a lot of work to do when it comes to hiring diverse candidates noting, "We see a smaller slice of the pie representing ethnically diverse females, and even a smaller slice representing ethnically diverse men. We all know there's still much more work to be done to have a more equitable industry."
Download your copy of the free Leopard law school hiring research report.