JD Supra Features Article on Leopard Solutions' Women Leaving Law Report
July 25, 2022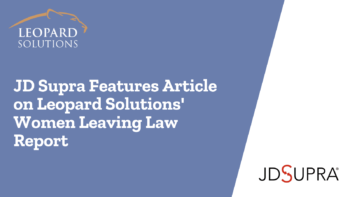 JD Supra recently published an article on Leopard Solutions' Women Leaving Law report.
The article, "Why Are Women Leaving Big Law and What Can Law Firms Do About it?," provides a high-level look at the survey and its findings, why we undertook the research project and its implications on law firms.
The reasons cited in the survey by respondents on why they left their Big Law positions included what you would expect – gender biases, microaggressions, billable hour target pressure, preservation of mental health, lack of mentorship, unequal pay, as well as isolation, long hours and unpredictable schedules, lackluster career trajectory prospects and insufficient work-life balance, among others.
The most frustrating work aspect for our respondents was a perception that their law firms did not support them, followed closely by the lack of work-life balance.
The Women Leaving Law Report answers questions like, why women are leaving Big Law? What are the ongoing systemic barriers women still face in the legal profession? How firms can improve retention?