Webinar: How Law Firms, Legal Recruiters and Candidates Can Navigate Opportunities and Challenges in the Booming Legal Jobs Market
June 15, 2021 @ 12:30 pm
Location: Virtual
Event Type: Webinar
Watch a recording of this webinar with leaders in the legal industry, including Dan DiResta, Mary K. Young, Laura Leopard, Danielle Rosetti, Nicole Kennedy and Stefanie Marrone on how law firms, legal recruiters and candidates can navigate opportunities in today's booming legal jobs market.
Leopard Solutions' research shows the demand for lawyers at all levels reaching an all-time high this year as law firms across the nation expanded attorney job searches to make up for the slow growth they experienced last year due to the COVID-19 pandemic.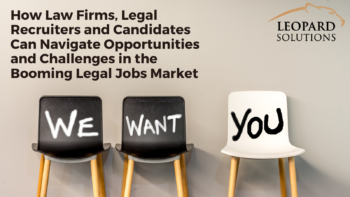 Our research, which tracks more than 1,000 global law firms, found that there were 8,268 open and available attorney jobs at these firms as of May 14, an increase of 150% since the start of the pandemic.
The number is also higher than pre-pandemic figures, which averaged between 6,000 and 6,500 open attorney jobs from the start of 2017 to the end of 2019, a period of general growth in the legal industry.
The numbers only tell part of the story as many lateral partner searches are conducted privately or through relationships.
However, the increase in demand for lawyers has also made it more challenging for law firms to compete for qualified candidates and retain their legal talent. In fact, recruiters are seeing signing bonuses have never been as high as they are now.
In this webinar, a panel of legal industry professionals explored:
The opportunities for law firms, legal recruiters and candidates in the current booming environment
How to source and compete for candidates at all levels in a competitive market
How law firms can better retain their people
How to set your lateral hires up for success
The unique challenges and opportunities for women lawyers and diverse lawyers in the current market
The unique opportunities for mid-size and small law firms
How law firms, legal recruiters and candidates can use this market to their advantage
Speakers
Dyana Barninger, Senior Director of Lawyer & Consultant Recruiting, Faegre Drinker
Dan DiResta, Chief Operating Officer, Williams Kastner
Nicole Kennedy, National Associate Practice Group Leader, The Lucas Group
Laura Leopard, CEO/Founder, Leopard Solutions
Danielle Rosetti, Chief Talent Officer, Buchanan Ingersoll
Mary K. Young, Partner, Zeughauser Group
Stefanie Marrone, Stefanie Marrone Consulting (moderator)