Critical Considerations for a Successful Law Firm Merger or Combination Webinar
August 3, 2021 @ 12:30 pm
Location: Virtual
Event Type: Webinar
Watch a recording of this webinar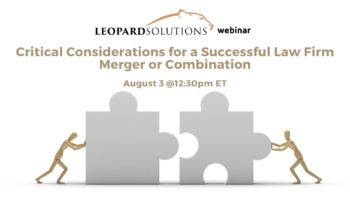 The legal industry has seen a record-setting pace of law firm mergers and acquisitions in the past few years, and this activity is on the rise with the pandemic now in the rearview mirror.
These tie-ups offer tremendous opportunities for law firms such as market expansion, increasing the depth and breadth of services, competitive advantage and bench strength, diversification of client base but also come with significant risks.
The success or failure of a law firm merger or combination rest upon a plethora of factors and decisions made both before and after the deal is consummated. And the stakes are raised when one or more of the parties need to complete the deal quickly to prevent partner defections or to shore up shaky finances.
In this webinar, we explored the current law firm merger and acquisitions landscape, and look at:
How widespread are mergers between firms today?
What are the key issues in considering a merger and what are the issues that prompt firms to want to merge?
What are the most important considerations in approaching a merger, both in terms of identifying possible partners and then assessing their suitability?
What are the things to consider in identifying targets and making approaches?
What are some successful examples of law firm mergers/combinations?
What are recent trends in law firm mergers/combinations?
What are common pitfalls in mergers and how can they be avoided?
What are some of the most important compliance issues for law firms to consider when merging/combining?
How can firms address cultural fit issues when merging/combining?
Speakers: