The Benchmarking Tool is our newest tool included in subscription access to Leopard BI, Leopard Solutions' business intelligence platform of reports and predictive analytics.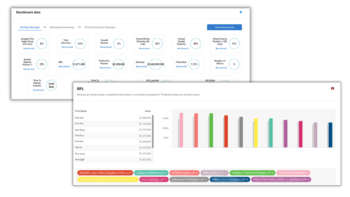 The Law Firm Benchmarking Tool gives law firms of all sizes the ability to benchmark their firm against peer firms utilizing Leopard Solutions' research in critical areas such as: 
 

Total number of attorneys

 

Attorney growth/decline

 

Ethnic or gender diversity

 

Law firm financials RPL (revenue per partner) and PPP (profits per partner)

 

Attorney promotions and retention and more

 

Gross revenue 

 

Number of offices 

 

Time to make partner for laterals and entry-level associates

 

ROI for laterals and entry-level associates

 

ROI for entry level associates

 
Law firms can also benchmark themselves against other firms utilizing the Leopard Solutions Law Firm Index, a composite ranking of law firms updated twice a week, which analyzes the recent changes in the above factors and assigns a score from 0 to 500 to determine the current strength and stability of a law firm.   
With the Leopard Benchmarking Tool, Law firms can track their index changes against their competition (which they get to choose) over the previous 12 months.