Alumni can be a powerful part of your recruiting and retention strategy. Leveraging alumni relationships in achieving your business development, marketing, recruitment, DEI and talent development goals. Knowing where your alumni are enables you to invite them back to speak at firm events and feature them in alumni profiles.
The Alumni Tracker is our newest tool included in subscription access to Leopard BI, Leopard Solutions' business intelligence platform of reports and predictive analytics.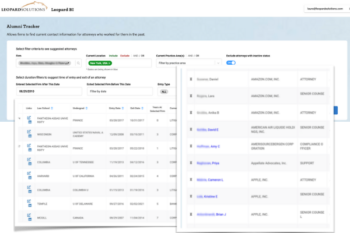 The Alumni Tracker makes building law firm alumni networks fast and easy. What once took countless hours and was out-of-date the minute you finished is now accessible in just a couple of clicks and is updated twice each week, so you can be sure you have the most up-to-date alumni database.
Drawing on Leopard's rich historical data, you can find access your alumni's entire professional history. Paired with the Leopard BI Connection Report, you can not only track your alumni, but you can turn them into referral sources, recruiting ambassadors and clients.