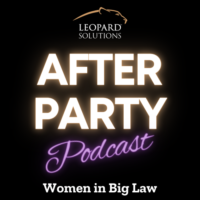 The After Party Podcast: Women in Big Law
Insight into challenges women face in the legal industry, especially in the Top 200 law firms.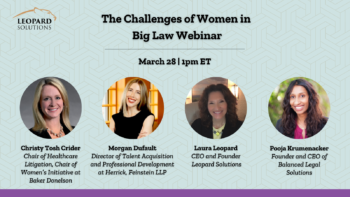 Listen in on the afterparty podcast on the recent The Challenges of Women in Big Law webinar, whereby the esteemed panelists continued the discussion by exposing women's challenges and spotlighting areas where they have been able to excel. What are the top 200 firms doing to support gender equality, and how can they help level the playing field for women against their male counterparts?
Listen in to Laura Leopard, CEO and Founder of Leopard Solutions, with other panelists, including:
Christy Tosh Crider

, Chair of Healthcare Litigation, Chair of Women's Initiative at Baker, Donelson

Morgan Dufault

, Director of Talent Acquisition and Professional Development at Herrick, Feinstein LLP

Pooja Krumenacker,

Founder and CEO of Balanced Legal Solutions