Booming Legal Jobs Market Infographic
2021 is making up for lost time in terms of hiring in the legal market. The acceleration began in March and has continued zooming upward. Research from Leopard Solutions shows clearly that it is a fiercely competitive market for talent for both law firms and recruiters. As a result, there is a massive gap between the supply and demand in terms of jobs and people to fill them. It's a challenge from a talent and recruitment perspective, but a good challenge to have.

Download our infographic.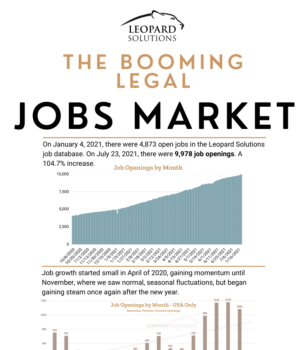 Creating Data-Rich Infographics
To create our infographic, we used data from Leopard Job Search. 
Leopard Job Search is a searchable online platform of attorney jobs, updated in real-time, providing legal placement professionals access to the largest and most accurate database of attorney jobs in the legal industry. With access to daily alerts, legal placement professionals are able to stay on top of job opportunities as they become available.
Solutions for Law Firms | Solutions for Legal Recruiters | Solutions for Law Schools
Learn What Leopard Can Do For You


< Previous: Beyond PPP | A Current Look at Diversity: Next >