Watch a Replay of the Leopard Solutions Law Firm Mergers & Acquisitions Webinar
August 6, 2021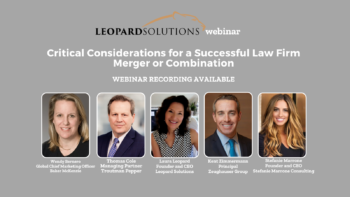 Did you miss our recent webinar on key considerations regarding law firm mergers and combinations? Watch a replay.
Our panelists discussed the key issues in considering a merger and the issues that prompt firms to merge, the most important considerations in approaching a merger, how to identify possible partners and assessing their suitability, and common pitfalls in mergers and how can they be avoided.
In addition, Tom Cole the current managing partner of Troutman Pepper and Kent Zimmermann, a principal at Zeughauser Group, discussed the successful merger of Troutman Sanders with Pepper Hamilton which closed during the pandemic.
Here's a replay of the program featuring:
Wendy Bernero, Global Chief Marketing Officer, Baker McKenzie
Tom Cole, Managing Partner, Troutman Pepper
Laura Leopard, Founder and CEO, Leopard Solutions
Stefanie Marrone, Founder, Stefanie Marrone Consulting | The Social Media Butterfly
Kent Zimmermann, Principal, Zeughauser Group