View Replay of Leopard Solutions Competitive Match Tool Webinar
May 10, 2021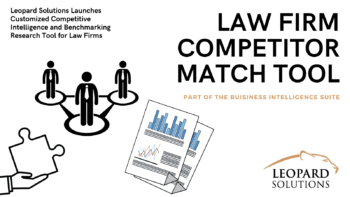 The Leopard Solutions Law Firm Competitive Match Tool enables law firms to quickly identify statistically probable competitors in each practice and office. Law firms can benchmark their competitors based on the Leopard Law Firm Index Score, attorney ROI and growth decline metrics.
This new tool provides visual charts and predicative analytics that enable law firms to better understand who their competition is as they look to both develop and retain clients, grow practice areas and industry focus as well as expansion of offices. Learn more about the tool.
Leopard Solutions CEO and Founder Laura Leopard recently led a webinar on the Competitive Match Tool. Watch a recording of the webinar.
To learn more about Leopard Solutions or to obtain a copy of the slides presented during the webinar, reach out to Phil Flora.