Unprecedented U.S. Legal Jobs Market Holds Strong in Q3
October 12, 2021
Leopard Solutions has been tracking and analyzing the skyrocketing demand for lawyers across the United States as business booms for many law firms.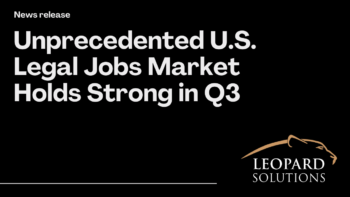 At the beginning of the third quarter of 2021, our jobs database showed a record 10,000 open legal positions and has remained above that mark, currently sitting at 11,000+ open jobs.
This is the highest number of open jobs at one time that we have seen since we started tracking jobs. 
Throughout the third quarter we saw an average of 82 newly listed jobs every day and 73 closed jobs everyday indicating that positions are being filled on an expedited basis but demand remains strong.
"The legal industry has been very resilient during COVID and the increase in client work across practices has left many firms without the necessary lawyers to staff these matters," noted Leopard Solutions CEO Laura Leopard. "Everyone – from big firms to boutiques and everyone in between is racing to find talent to fill their open positions."
But winning the recruitment race isn't the only thing to consider.
"Retention is key for law firms," says Leopard. "With associate salaries at record highs and incentive bonuses unlike anything the industry has seen, a strong retention strategy will help firms maintain their ranks, ensure continuity in client teams and see a return on their lateral investments as well as avoid the boomerang effect that some firms are starting to see where newly recruited lawyers return to their previous firms after a short period time realizing the grass isn't always greener."
Some points to note:
Our database currently has more than 11,000 current openings (a growth of 270% jobs since the start of the pandemic) – this is much higher than our pre-pandemic levels.
Between 2017 and the end of 2019, there were on average 6,000 to 6,500 open legal jobs open at any one time in our database.
Since January 2021, we've seen a staggering 128% growth in open attorney and support positions from 1000+ law firms (from 4,873 as of January 4 to 11,115 as of October 11).
We've seen a steady increase in job postings each month since October 2020.
It's important to note that most law firms do not usually post jobs online for partners and counsel so the attorney job market is even stronger than these numbers show.
Although business is booming for both law firms and legal recruiters, stiff competition for talent and fast-paced searches means that cultivating relationships and access to accurate and up-to-date information matters more than ever.
Our Leopard List law firm attorney search platform can help both in-house hiring managers and legal recruiters with their strategic lawyer hiring needs.
Our flagship product, the Leopard List, enables clients to find candidates to fill open jobs and receive updates three times per day as new jobs are added to our database.
Our diversity filter enables recruiters to help law firms find diverse candidates.
Leopard's tools extend beyond the Leopard List as well. Invaluable business development tools like the Connection Report and the Alumni Tracker enable firms to maximize its existing connections, helping law firms find candidates and helping recruiters place candidates more quickly and successfully.
To learn more about our tools, contact Phil Flora, Vice President of Sales and Marketing.