Leopard Solutions Surveys In-House Counsel to Learn What They Really Want from Outside Counsel
October 22, 2021
2021 brought about a talent race in the legal industry that was unprecedented due to a boom in legal work.
Understanding the needs and wants of in-house counsel has never been more important to law firms to retain and attract client work.
Further, with talent at a premium, having insight into the factors that may drive an attorney to go in-house enables law firms of all sizes to better understand how culture, work-life balance and salary can impact their retention.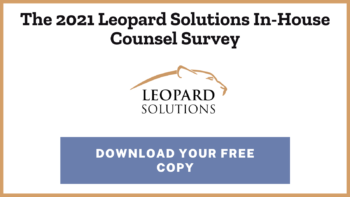 The 2021 Leopard Solutions In-House Counsel survey explores:
why lawyers go in-house
their criteria for satisfaction in an in-house role
what is most important to in-house counsel in terms of hiring outside counsel
what types of marketing resonates most with in-house counsel
These revelations can provide law firms with valuable insights into their clients' needs and help drive internal discussions surrounding business development, client retention and recruiting.
The survey also contains insights from Leopard Solutions' robust market insights, enabling law firms, legal recruiters, corporations, law schools and candidates paint a more vivid picture of the current in-house landscape and practice trends. The Leopard Solutions data used in this report comes from the In-house database that tracks over 75,000 corporate attorneys at more than 4,200 firms
Key highlights from the survey:
We surveyed 202 in-house attorneys representing 17 different industries. The most represented industries were:

Financial Services (18%)
Healthcare/Pharmaceuticals/Biotech (17%)
Manufacturing (15%)
Software/Internet & Technology (14%)

Based on respondent data, there's significant staying power for in-house attorneys. 41% reported a tenure of 10 or more years with their current organization.
Moving in-house hasn't lost its allure as 25% of respondents have been with their organizations for under three years and another 21% indicated they were at their organizations for 4 to 7 years.
Only 12% of all respondents said they would definitely consider returning to a law firm again. Just 2% of ethnically diverse attorneys said they would definitely consider returning to a law firm environment.
Nearly 60% of participants were satisfied with their work-life balance, and 75% felt that their organizations invest interest in their professional development.
Fifty percent of in-house counsel surveyed firmly state that they would not return to a law firm environment.
Regarding hiring for their own teams, 65% of respondents have noticed little to no change from before the pandemic, 10.5% have experienced less hiring and 24.5% have experienced an increase in hiring.
Similar responses were seen regarding the demand for outside legal counsel. 70.5% indicated little to no change, 7.5% have seen a decrease in demand since the pandemic and 22% have noticed an increase in demand for outside service since the pandemic began.
Based on respondent answers, the primary needs of the in-house counsel have been litigation (51.53%) and corporate/general business law (19.39%).
When choosing outside counsel, respondents noted qualities such as rapport, diversity, compatible work styles, expertise, value, size, the quality of the work and responsiveness as important factors.
In-house counsel want their outside counsel to provide value when marketing to them. They are less interested in receiving a press release and more interested in topical webinars. Client dinners and lunches are also important business development tools.
"Looking for opportunities to add value to your client and potential client relationships could differentiate firms from others," says Laura Leopard, Founder and CEO of Leopard Solutions. "Speak to your clients and identify ways that you can be their go-to source of the information they need. Firms shouldn't pass on this opportunity for business development."
Download the 2021 Leopard Solutions In-House Counsel Survey.
Watch a recording of a recent Leopard Solutions webinar on the survey results with a panel of in-house counsel.
Contact Phil Flora, Vice President of Sales and Marketing at Leopard Solutions for more information about the survey.