Leopard Solutions Launches Customized Benchmarking Research Tool for Law Firms
July 22, 2021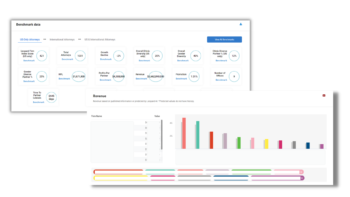 Leopard Solutions, the leading provider of accurate and verified attorney and law firm data, has released the Law Firm Benchmarking Tool, the latest report included with subscription access to Leopard BI, Leopard Solutions' business intelligence platform of reports and predictive analytics.   
The Law Firm Benchmarking Tool gives law firms of all sizes the ability to benchmark their firm against peer firms utilizing Leopard Solutions' research in critical areas such as: 
 

Total number of attorneys

 

Attorney growth/decline

 

Ethnic or gender diversity

 

Law firm financials RPL (revenue per partner) and PPP (profits per partner)

 

Attorney promotions and retention and more

 

Gross revenue 

 

Number of offices 

 

Time to make partner for laterals and entry-level associates

 

ROI for laterals and entry-level associates

 

ROI for entry level associates

 
Law firms can also benchmark themselves against other firms utilizing the Leopard Solutions Law Firm Index, a composite ranking of law firms updated twice a week, which analyzes the recent changes in the above factors and assigns a score from 0 to 500 to determine the current strength and stability of a law firm.   

With the Leopard Benchmarking Tool, Law firms can track their index changes against their competition over the previous 12 months.     
Leopard Solutions has been collecting and analyzing research on law firms since 2002. Now with more than 4,200 global firms included and updated twice a week, Leopard Solutions is the largest and most accurate law firm competitive and business intelligence database of its kind.   
"Law firms have always looked for ways to stay ahead of their competition", explains Phil Flora, VP of Sales & Marketing for Leopard Solutions. "With the Leopard Benchmarking Tool, Law firms are now able to access and benchmark all the key statistical data points about themselves and their competitors in one place." 
The Law Firm Benchmarking Report is the sixth business intelligence report and search tool to be released as part of Leopard BI, Leopard Solutions newest product, which utilizes over 20 years of Leopard Solutions research to provide predictive analytics on topics such as law firm mergers and acquisitions, ROI of lateral and entry level attorney hiring, attorney and corporate counsel connections and law firm health and stability, through the Leopard Law Firm Index, which highlights the Leopard Top 250, a dynamic ranking of the top 250 global firms based on attorney growth, retention and diversity.   
Contact Phil Flora, Vice President of Sales and Marketing to learn more, schedule a demo and receive a complimentary Benchmark Report.  
About Us
Leopard Solutions delivers the highest quality, most accurate and in-depth information on the legal market, leading law firms and attorneys with easily searchable products.  
From business development solutions to competitive intelligence to lateral recruitment to our curated and customizable market research reports, Leopard Solutions offers a wide range of data solutions for law firms and legal departments. Leopard's data and technology is continuously updated to ensure market relevance and competitive edge. 
We are a proud WBE organization that has grown into one of the most recognized and trusted legal market data providers in the United States. Leopard Solutions' high level of quality and depth is unmatched in the industry. For more information, visit our web site and follow us on LinkedIn.