Laura Leopard Quoted in Law360 Article on Legal Job Openings Hitting Record High Amid Market Boom
July 28, 2021
Laura Leopard, Leopard Solutions Founder and CEO, was quoted in a Law360 article, "Legal Job Openings Hit Record High Amid Market Boom."
As the article notes, due to the fact that most law firms seeing increased profits last year and the demand for young talent surging, the search to fill legal jobs across the industry continues. Leopard Solutions reported more than 10,000 open legal positions for the first time, which is more than three times the 3,000 jobs in our jobs database in July 2020.
A breakdown of the data in the Law360 article shows that a majority of the positions are for associates, at 6,906 open jobs, while the rest include 286 openings for counsel, 296 for partners, 502 for support attorney positions and 2,414 for support staff such as paralegals and secretaries.
"They're making up for lost time," Leopard Solutions CEO Laura Leopard said of the record number of job openings. She noted that many firms postponed hiring during the pandemic but that as they have emerged with higher profits, they have resumed their recruiting efforts.
"Every year there is growth in these law firms. You see the numbers grow each and every year. That didn't happen in 2020 in the same way," Laura added. "So they do have some ground to make up and everyone is scrambling right now to bring new people on board to beef up their ranks again."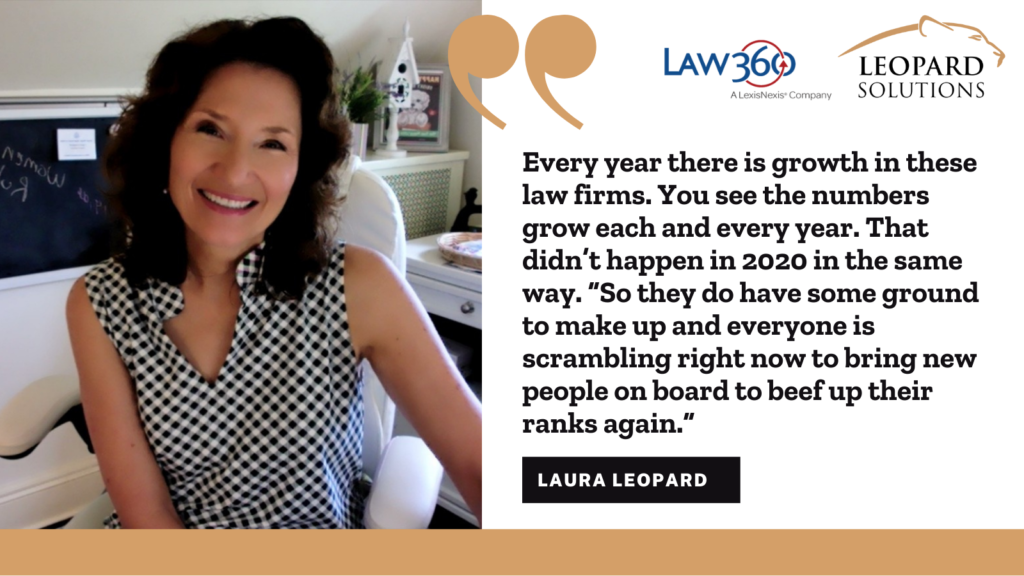 The practice areas where law firm are hiring most: Leopard Solutions data shows 2,139 job openings for corporate associates, counsel and partners, nearly 13% more than openings for litigation attorneys, who are second in terms of being most sought after. Intellectual property job openings took the third spot.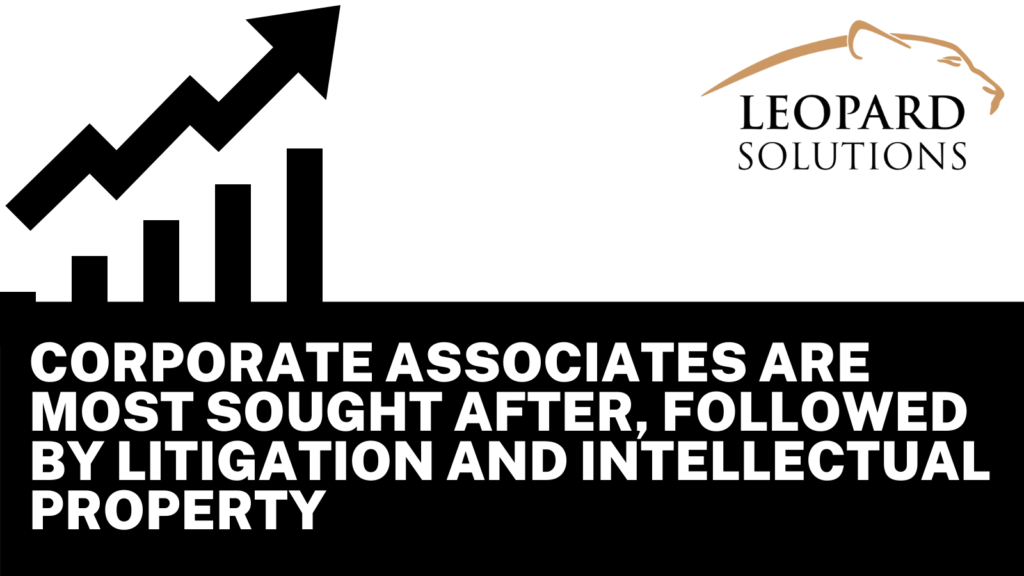 And firms are also making hires. The top 200 law firms have made nearly twice as many lateral hires in May, June and July 2021 compared to last year. So far this month, those firms have hired 537 associates, 150 partners and 104 counsel as per Leopard Solutions data.
Laura pointed out that firms also hired more attorneys from underrepresented gender and ethnic backgrounds in 2021, making it more difficult for some firms to recruit and retain diverse talent.
Read the full article (subscription required).