Laura Leopard Featured in Law360 Article on How to Retain Your Lawyers in the Booming Legal Hiring Market of 2021
November 8, 2021
Laura Leopard, the CEO and Founder of Leopard Solutions was featured in a Law360 article on how law firms must take action to retain their associates in an aggressive recruiting market where there is a talent shortage and unhappy attorneys can more easily switch firms.
The article noted that according to Leopard Solutions' 2021 third-quarter data, the legal market has more than 11,000 open jobs worldwide, up from 10,000 available jobs in July and about 4,000 open jobs from the same period last year.
Laura said the legal market has never before had so many job openings, and recruiters are charging higher fees that law firms are readily paying. In addition, firms are offering lateral associate hires six-figure signing bonuses to leave their current employers, she said.
"Retention was always rather difficult because it's when you bring associates in, at a certain point they may want to try somewhere else to see if their career goes a bit faster, but now it's even more difficult because the frenzy to hire right now is at such a fever pitch," Laura said.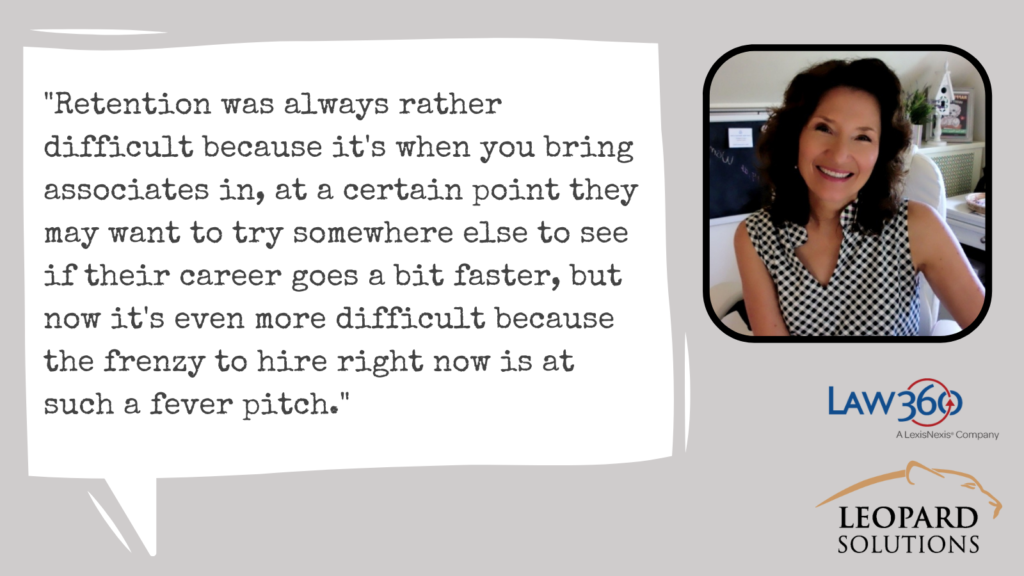 Read the full article (subscription required).