Leopard Webinar – How Healthy Are Law Firms Today? Exploring the 2021 Leopard Law Firm Index Rankings
March 8, 2022 @ 1:00 pm
Location: Virtual
Event Type: Webinar
Join us for a webinar on March 8 at 1pm ET exploring the Leopard Law Firm Index, specifically looking at the firms that consistently scored the highest in 2021 in various important categories that can determine the health of a law firm today.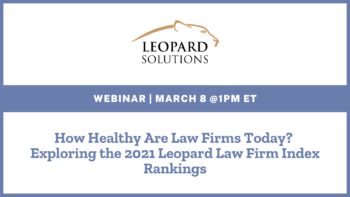 The Leopard Law Firm Index is updated twice a week and focuses on the overall health of a law firm in real-time. The timeliness of our data and the volatility of the market creates situations where traditional firms that perform well on other rankings may not make our rankings or do well on ours.
The Leopard Law Firm Index considers several factors, such as attorney growth and retention, financial stability over time, attorney promotions, as well as how ethnically diverse the firm is compared to others.
We will explore how firms did in each of these categories.
Speakers include:
Laura Leopard, CEO and Founder, Leopard Solutions
Brian Dalton, SVP and Editorial Director at Breaking Media
Bruce MacEwen, President of Adam Smith, Esq.