Leopard Webinar – Learn About the Latest Leopard Reports
February 3, 2022 @ 1:00 pm
Location: Virtual
Event Type: Webinar
Join Laura Leopard, CEO of Leopard Solutions, on February 3 at 1:00 pm for a free webinar as she introduces two new Leopard Solutions reports to subscribers.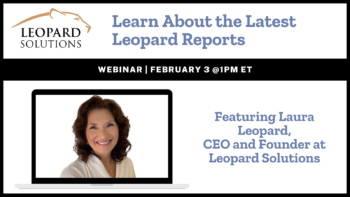 The Firm Office Open & Closed Report, housed in Firmscape, allows users to analyze geographical changes and trends in the legal market by looking at law firm office openings and closures through Leopard's up-to-date legal intelligence reports.
The Past Merger Report joins Leopard BI and provides critical insights on past law firm mergers. This report will allow users to apply lessons learned from past mergers as they look forward to future mergers and combinations using Leopard's legal intelligence reports.