Leopard Solutions Webinar: Diversity, Equity and Inclusion in the Legal Industry: How Are Law Firms Really Doing When it Comes to Diversity?
September 28, 2021 @ 12:30 pm
Location: Virtual
Event Type: Webinar
Join us for a webinar on September 28 exploring diversity, equity and inclusion issues in the legal industry and where law firms are today when it comes to diverse hiring and retention.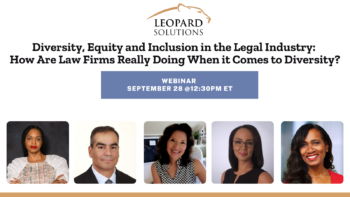 Despite efforts by law firms to embrace diversity initiatives and hiring efforts, bias in the profession continues and overall, women and people of color have continued to make incremental progress in representation at major U.S. law firms according to our data.
Join Leopard Solutions on September 28 at 12:30pm for an important webinar where we will explore:
How law firms are doing with recruiting and retaining diverse lawyers
How law firms can better recruit and retain diverse lawyers
Overcoming implicit and explicit bias
COVID-19's impact on retention and advancement of diverse attorneys
How small and mid-size firms without big budgets for DEI can still foster an environment of inclusivity
The client perspective on DEI in their outside law firms
How diverse candidates can successfully navigate the interview process from beginning to end and maximize employment opportunities.
Panelists include:
Alexis Robertson, Director of Diversity & Inclusion at Foley & Lardner LLP
Dennis Garcia, Assistant General Counsel at Microsoft
Tahisha Fugate, Senior Manager of DEI Client Development at Orrick
Laura Leopard, Founder and CEO of Leopard Solutions
Merle Vaughn, Law Firm Diversity Practice Leader/Partner Practice Group at Major Lindsey & Africa