New Product Release Webinar: The Leopard Law Firm Competitive Match Tool
May 6, 2021 @ 2:00 pm
Location: Virtual
Event Type: Webinar
Do you really know who your competitors are? And once you know who they are, do you know what to do with that information for competitive analysis and strategic planning purposes?
Leopard Solutions announced the launch of the Business Intelligence Suite's newest report and search tool, The Law Firm Competitive Match Tool. We subsequently hosted a webinar on May 6th to teach users how to use the new product.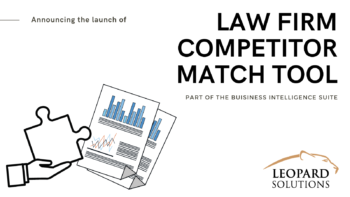 The Law Firm Competitive Match Tool leverages over 15 years of Leopard Solutions research to enable law firms to identify and benchmark their competitors across practice areas, industries, office locations and firmwide level.
The tool enables users to run law firm comparisons across all 4,250 global law firms to identify competitors based on attorney growth and decline, client representation, lateral hiring success and more.
You can use the tool to visualize data points and predictive analytics and monitor both known and unknown competition utilizing graphs and charts, which can then be shared across the firm.