Coach's Corner
Creating a data-driven, compelling narrative for law firm recruiting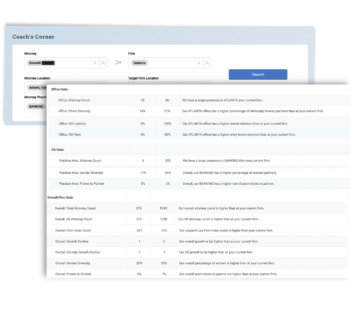 Hiring partners at law firms often need guidance in selling a candidate on their firm- going beyond messages of 'great culture' that a candidate hears from every organization they meet with. The answer to creating a compelling narrative that results in placements lies in data.
The Coach's Corner, a first-of-its-kind tool, centralizes all of the rich Leopard Solutions data into talking points, helping internal and external legal recruiters shape the narrative surrounding why an attorney should be interested in joining their law firm.
In just a few clicks, this report identifies a firm's best-selling points by practice area, location, and overall organization, and offers clear and concise talking points for hiring managers and partners to utilize during candidate conversations.
The Coach's Corner also integrates connections from the companion report in Leopard BI, The Attorney Connection Report, which shows the candidate might have with attorneys at the prospective firm. The Attorney Connection Report utilizes almost twenty years of career history and education data to find weighted connections and uncover relationships attorneys might have at each law firm they are looking to join.