When Where Why of Attorney Lateral Movement
Posted on by Charisse Curiel

When, Where, and Why of Attorney Lateral Movement
All week, we have been talking about practice areas, why firms take so long to make decisions; now get to the part where we discuss the reasons why attorneys leave. Attorney lateral movement can be quite a process and sometimes, it can be difficult to determine whether you should stay or if you should go. We hope to act as a compass and give you some sense of direction on your journey.
The Hang Up
Most candidates get hung up on the WHEN – when am I the most marketable? When is the best time of year to move (i.e. after my bonus)?  When will I have enough business to make the move as a partner? How long do I need to wait to make a move if I just made partner (a fancy way of asking WHEN)? Or, they get stuck on the WHERE – should I move to a bigger firm?  Should I transition to an in-house position? Etc.
Many have found that if one focuses on the WHY, the WHERE and the WHEN naturally fall into place. WHY is the concrete reason a person wants to make a lateral move – it may be more than one concrete reason – the reason is going to vary from person to person, but it is important to figure out WHY you want to make the move. Without the why, it will be very difficult to determine the WHERE and WHEN.
Examples of When Where Why of Attorney Lateral Movement
Partner Lateral
WHY: You're a partner being forced to turn down clients because billing rates at your current firm are not compatible with what clients are willing or able to pay. The firm's rates are too high for your clients, so you are stagnating and are not able to grow your practice. This is a great reason to move.
WHERE: A great option would be to lateral to a firm that is less restrictive in terms of what they bill their clients. Perhaps a firm that is more of a mid-size regional firm offering lower billing rates that will allow you to grow and develop your business.
WHEN: Barring any restrictions in your partnership agreement (if you have one), you can exit at any time that is comfortable for you. You or your recruiter should start approaching your target employers whenever you have your business plan ready with details on how much business is in your portfolio and what clients will be following you.
Associate Lateral
WHY: You are a 4th-year associate who has decided that antitrust merger review/HSR filings are going to be your specialty. Your firm, while really strong in antitrust litigation, does not have a strong transactional component to the practice. As such, you have determined that you want to go to a firm that will allow you to expand and hone your skill set in that area.
WHERE: A larger firm with "a strong transactional component to the practice."
WHEN: You want to do it before you start getting too far away from what you want to be practicing.
The Best Thing To Do
Whether you are a partner or an associate, sit down with a trusted professional to figure out what is making you unhappy; what could be better; what is lacking, etc. Having that conversation may help you realize that things can be fixed just by tweaking a few things at your current firm. The conversation may help you see that a lateral move is in your best interest. Either way, talk it out, express your feelings. This will help you decide how to move forward.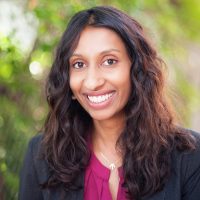 Pooja Krumenacker is founder and CEO of Balanced Legal Solutions, Inc, a legal placement company founded in 2004. Prior to that, Ms. Krumenacker was a practicing attorney. She has forged strong relationships with clients and candidates alike and provides quality service and expert knowledge about the legal market. "I believe in providing step by step guidance and helping people make informed decisions based on their individual needs."
Specialties: All areas of the law including but not limited to Intellectual Property, litigation, ERISA, Corporate, Real Estate, Government Investigations, Healthcare and FDA, Securities, Tax, Antitrust, Trust and Estates, Copyright and Trademark, Energy, Telecommunications and Government Contracts
Subscribe to the Leopard Blog for discussions about attorney lateral movement, diversity, law firm insights, and other relevant topics. Leopard Solutions is an online resource for real-time legal data and insights for law firms, corporations, law schools, recruiters, and attorneys. Our suite of data intelligence tools helps you with business development, firmographics, marketing, and data analysis. Our tools are popular with HR teams, talent acquisition/recruiters, business development, sales, and marketing teams.