Weekly Training Webinars with the
Leopard Client Success Team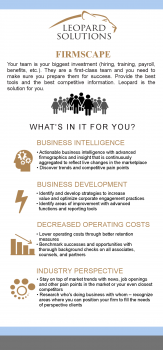 Tune in every Thursday for a step-by-step look into FIRMSCAPE, our business intelligence solution. From basic functions to in-depth reporting solutions, keep your finger on the pulse of the legal market with the ability to:
Monitor competing firms' footprint with the Current Firm Report and get a side-by-side comparisons
See lateral movement, firm growth and decay with Lateral Reports and the Growth/Decline Reports
Stay ahead of the curve with an overall look at the legal marketplace with the Filtered History Report
Learn every single report and how it can help you and your team maintain your edge.
If you miss one, you have another chance to join live!
Join us every week, Thursdays at 1pm EST | 10am PST
*Dial (for higher quality, dial a number based on your current location): US: +1 646 558 8656
or +1 669 900 6833
Meeting ID: 241 264 904
International numbers available: https://zoom.us/u/cJDxFK271
Join our live weekly training sessions!