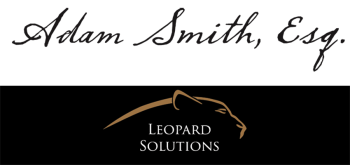 Want to make fewer mistakes in critical business decisions?
Learn how using data can improve your outcomes.
Whether you are bringing on laterals, generating business, or even contemplating a combination – do you have the information you need to make better decisions and better position your firm?
Adam Smith, Esq. and Leopard Solutions are teaming up to shed light on these very topics, providing practical advice and giving you a competitive edge.
We've scheduled three webinars focusing on how to increase awareness of the benefits of using data to augment your decision-making and market standing. The runtime of each webinar is 45 minutes (30-minute panel discussion & 15 minutes for a Q&A). All webinars moderated by: Bruce MacEwen and Janet Stanton of Adam Smith, Esq.; and Laura Leopard, CEO & Founder of Leopard Solutions.
Two webinars completed, and more more to come. Next up:
"Merger Due Diligence: Your Clients Do it, How About You?"
Combinations are on the rise. How can you navigate the thicket of opportunities to identify and assess potential candidates, while presenting your firm in the best light?
Panelists include: Bob Couture, Executive Director of McGuire Woods
Date: December 12, 2017, 2 pm (EST)
Register today!
De-mystify these critical business decisions, while finding ways to meaningfully distinguish your firm and improve your odds of making better decisions.