Recruiting Ethics: Unethical Tactics You Should Avoid
Posted on by Charisse Curiel
Recruiting Ethics: Unethical Tactics You Should Avoid
Recruiting the right job candidates requires a certain level of trust. A candidate has to trust that the open position is real (read our post on avoiding fake job posts). A candidate has to trust that the job description is honest. A candidate has to trust that you will return his/her inquiry.  For these reasons, and many more it is important that recruiters (both in-house and independent), approach recruiting from an ethical standpoint. Here are three unethical tactics everyone (especially recruiters) should avoid:
Job embellishment. We can appreciate and understand that the recruiter or job poster wants to make a job opportunity as appealing as possible, but embellishing employee responsibilities, compensation, and/or career advancement opportunities will destroy trust between the recruiter and candidate. It could even go so far as to affect the firm itself. If a candidate accepts the position based on the deceptive description, the candidate will not stay long which results in bad retention for the firm, as well as thousands in losses (fees, lost time, etc.). Bad news travels fast. The candidate will tell everyone in their network about the dishonesty and the impact can be catastrophic in some cases.
Bad mouthing an employer. The competition for top talent is fierce. Getting the attention of top talent can be almost impossible. Some recruiters may be tempted to say negative things about a candidate's current employer or another law firm the candidate is considering (especially if that negative information is true). We advise you not to do it. Even if you've heard rumors from credible sources, it's not your place to bad mouth an employer to a candidate; it makes you look bad.
Posting nonexistent jobs. Sending out "cattle calls" to job candidates when you have no specific job available is bad form and wastes the candidate's time. Conscientious candidates spend time creating cover letters and resumes according to the job post, they deserve the courtesy of applying to a real job.
Operating with the highest ethical standards will improve your relationship with candidates. Oftentimes, recruiters serve as career therapist, coach, and confidante. Once lost, trust is very hard to gain and there are many other recruiters. If there is negative information you must share, share the hard facts, share real data from Leopard Solutions or your legal data provider.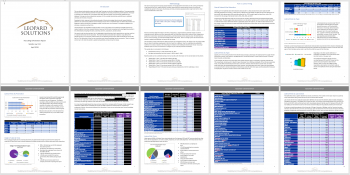 Subscribe to the Leopard Blog for discussions about diversity, law firm insights, and other relevant topics.
Leopard Solutions is an online resource for real-time legal data and insights for law firms, corporations, law schools, recruiters, and attorneys. Our suite of data intelligence tools helps you with business development, firmographics, marketing, and data analysis. Our tools are popular with HR teams, talent acquisition/recruiters, business development, sales, and marketing teams.