Recruiter Corner: Using The Power of The Internet to Enhance Your Business
Posted on by Charisse Curiel
Recruiter Corner: Using The Power of the Internet to Enhance Your Business
In business, there is KYC (know your customer) so you can make sure that you are building relationships and so you're in business with a reputable organization and not a company with criminal practices. When you're in business for yourself (especially for independent recruiters), you also have to KYB or "know your business." As a sole proprietor, you are the boss, the assistant,  the accountant, bookkeeper, the marketer, the salesperson, operations and the hardest working employee all rolled up into one. It is not easy. Many small businesses fail not because they do not fill a niche, but because not enough people/businesses know about them and what they can do for them. Your great idea is not a "field of dreams," because even though you built it, they did not come. So, how does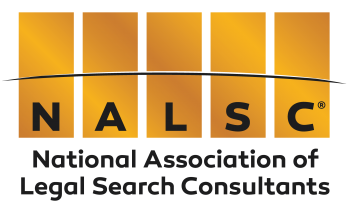 the sole recruiter remedy that? By harnessing the power of the internet and social media to enhance your business.
During the NALSC (follow them on LinkedIn here) conference last week, the social media marketing panel brought up the use of Google alerts (the internet) to enhance your business. The beauty is that it kind of sounds like the most forward and progressive thing to do, but it is not. It is super simple. To start click here.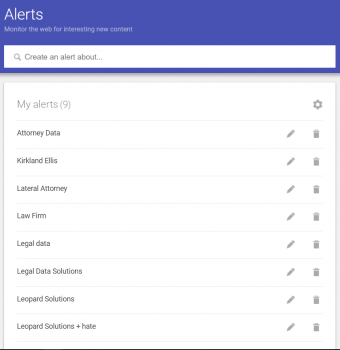 Making your alerts effective. Be specific with your keywords. Do not try to flood your email with useless alert items you will never look at. Generic terms like "accounting" or "footwear" will return results you do not need.  Focus your alerts on the items you are interested in including your brand, law firms you would like to track, candidates on the rise (works for alumni groups as well), and other keys words you would like to keep an eye on.
Make more than one combination of keywords. A good place to start with your keyword alert is with your "company name/brand" + hate, + worst, etc. so you have the opportunity to get in front of any bad press. Likewise, combine other keywords like "lateral partner," "in-house counsel lateral" or something to that effect. It may not bring up a lot of results, but when a lateral makes a move, you will know immediately.
Use alerts along with your new social media plan. Just about every social media platform connects in some way to Google or is easy to integrate. As stated in our previous blog post, social and the internet is everywhere you are and everywhere you want to be – so use it. They are both powerful tools and when you combine them – amazing things can happen for you and your recruiting business.
Do Not Be Afraid
It is very easy to feel overwhelmed by social media and using the internet. Do not be afraid. Whatever you do, you can pretty much undo. Most importantly, you're a professional. The same way that you approach client companies and candidates, approach social media and the internet. If you would not say something directly to either of them, do not say it online or on social. If you have doubt about posting something, trust your gut and do not post. There are many people out there blogging about the internet, digital marketing, and social media every day (you see, us too), and it is being done daily because we (even those who are writing about it) are still learning about it every day. You are not alone.
Subscribe to the Leopard Blog for discussions about diversity, law firm insights, and other relevant topics. Leopard Solutions is an online resource for real-time legal data and insights for law firms, corporations, law schools, recruiters, and attorneys. Our suite of data intelligence tools helps you with business development, firmographics, marketing, and data analysis. Our tools are popular with HR teams, talent acquisition/recruiters, business development, sales, and marketing teams.