Recruiter Corner: How To Warm Up Your Next Cold Call
Posted on by Charisse Curiel
Recruiter Corner: How To Warm Up Your Next Cold Call
For many, calling a stranger fills them with dread. Today, with so much information on the web, and platforms such as Leopard Solutions, cold calls turn warm if you know how to use the data at your disposal. How often does this happen; you win the bid to help a law firm place a candidate, hot job, and not many attorneys bite? This is the time that you have to pull your boots up and figure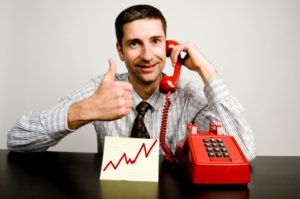 out how to warm up your next cold call to a potential candidate.
Do Your Research. If you're a Leopard subscriber all your calls are warm. With the wealth of information the platform provides, you can predict if the candidate is ready for a move or not. See if many or any attorneys are jumping ship. If you're not a subscriber, LinkedIn is a great place to start your research on potential candidates for attorney positions.
Timing is Everything. Calling your target person at the right time is critical to making a cold call a little less chilly. If you're conducting follow-up calls with contacts you've met while networking, ask them when is the best time to contact them. Consider doing a bit of social media research to find out when they're active,  if they're going out of town soon or if they have meetings—many people announce those types of things online. A bit of research (cyber-stalking for the greater good of their career more like it) can help loads.
Don't Make Assumptions. Do not assume that an attorney is ready to leave their firm at any moment. Even though many attorneys today do not pass the three or five-year mark, we cannot assume that they have already started searching for a way to jump ship or are even thinking about it at all. Leopard's attorney data shows that 40% or more attorneys 

separate from 

their firm within three years. At other firms, the number of attorneys can reach up to 60% or more. But there are always exceptions. If you are going to assume anything, assume they are happy in their position and ask for a recommendation of someone like them who would consider a position at another firm.
Offer something of value. Attorneys are super busy. When you call, you need to have something to offer that will make talking to you worth their time. Sometimes this value can be a connection they can make use of, an opportunity to share their expertise (in the case of informational interviews) or the new opportunity itself. Whatever you're offering, show them the value straight away so the conversation is worth their while.
Whether you're calling to follow-up about job opportunities or just trying to learn more about a law firm's culture, warming up your next cold call has its benefits. Subscribe to the Leopard Blog for discussions about legal recruiting, law firm insights, and other relevant topics.
Leopard Solutions is an online resource for real-time legal data and insights for law firms, corporations, law schools, recruiters, and attorneys. Our suite of data intelligence tools helps you with business development, firmographics, marketing, and data analysis. Our tools are popular with HR teams, talent acquisition/recruiters, business development, sales, and marketing teams.