New Hire Tips: Productivity Traps to Avoid
Posted on by Charisse Curiel
New Hire Tips: Productivity Traps to Avoid
Thriving at a new job requires you to get the most out of your time. Top law firms are very fast-paced. In many cases, tasks change almost at the speed of light. Many new hires, unfortunately, fall into productivity traps that are major time sucks. Productivity is key and unless you have a due date far into the future, assume that the moment you are tasked with research or another project it is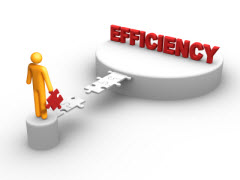 already due or late. Here are a few productivity traps to should avoid.
Too much research. When you're new, you want to make sure that you're thorough; that you're doing things properly and as expected. The need to please may cause you to spend too much time and energy researching before taking action. Too much research can be counterproductive and draining. To avoid the "too much research" trap, simply check two sources when you're trying to figure something out then move forward with the course of action you think is best. It's okay if you're not always right. The important thing is that you're moving forward.
Unrealistic to-do lists. Every new hire wants to make a good impression. But some new hires make the mistake of creating impossible to-do lists they simply can't fully tackle in the time they have. Continuously creating monster to-do lists and then failing to get things done can be discouraging. To avoid this trap, realistically estimate how long it will take to complete each task, then focus on the most important tasks first.
Using ineffective systems. Once you've gotten settled into a routine on your new job, you should carefully reassess your systems and processes. Even if something has been done one way for a long time, consider changing that system if you find it's not effective in helping you do your job. Many new hires are afraid to tweak processes because they don't want to rock the boat. But becoming more effective is always a plus no matter how new you are.
Avoiding the most common productivity traps will help you thrive in your new position. Subscribe to the Leopard Blog for discussions on diversity, law firm insights, and other relevant topics.
Leopard Solutions is an online resource for real-time legal data and insights for law firms, corporations, law schools, recruiters, and attorneys. Our suite of data intelligence tools helps you with business development, firmographics, marketing, and data analysis. Our tools are popular with HR teams, talent acquisition/recruiters, business development, sales, and marketing teams.