New Hire Tips: Building Powerful and Broad Work Alliances
Posted on by Charisse Curiel
New Hire Tips: Building Powerful and Broad Work Alliances
It's the end of the year and with holiday office parties still in full swing this week, work alliances are either make or break this time of the year. Regardless of how competent you are as an attorney, office politics can foil your career goals if you're not careful, ready and strategic. One of the best ways to avoid the pitfalls of office politics is to build broad work alliances and this is the time to strike.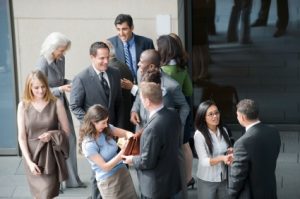 Befriend many people. Don't fall into any clique despite how popular it may seem on the surface. Form alliances with many different people from different groups at the firm.  With this strategy, you remain a free agent while still having valuable connections in multiple places with different people.
Do your homework. Before you choose who to befriend at the workplace, do your research. Avoid befriending drama kings/queens, gossipers, grumpy people, and anyone who is dissatisfied with their job. Instead, focus on finding emotionally healthy people who enjoy working at the firm. They will always provide value to you and your career.
Start small. Choose a few people to befriend and begin by inviting them to lunch or coffee/tea. Keep the conversation light but interesting. During this first meeting, listen closely and try to take note of any important information. Remembering small things like the fact that they went camping last weekend will make a lasting impression.
Support your allies. While you never have to sacrifice yourself for anyone, offering a helping hand to your allies will strengthen the relationship and make it more likely that they will help you when you need it.
Never backstab. Despite what you think you will gain from it, never backstab an ally. Betraying an ally will mark you as untrustworthy to that former ally and anyone else who witnessed the betrayal. In the end, it's really just not cool.
Building work alliances will help you successfully navigate office politics. Subscribe to the Leopard Blog for discussions on office politics, diversity, law firm insights, and other relevant topics.
Leopard Solutions is an online resource for real-time legal data and insights for law firms, corporations, law schools, recruiters, and attorneys. Our suite of data intelligence tools helps you with business development, firmographics, marketing, and data analysis. Our tools are popular with HR teams, talent acquisition/recruiters, business development, sales, and marketing teams.