Firms' race to pump up attorney numbers reveals MO a growing IP market
Posted on by Leopard Solutions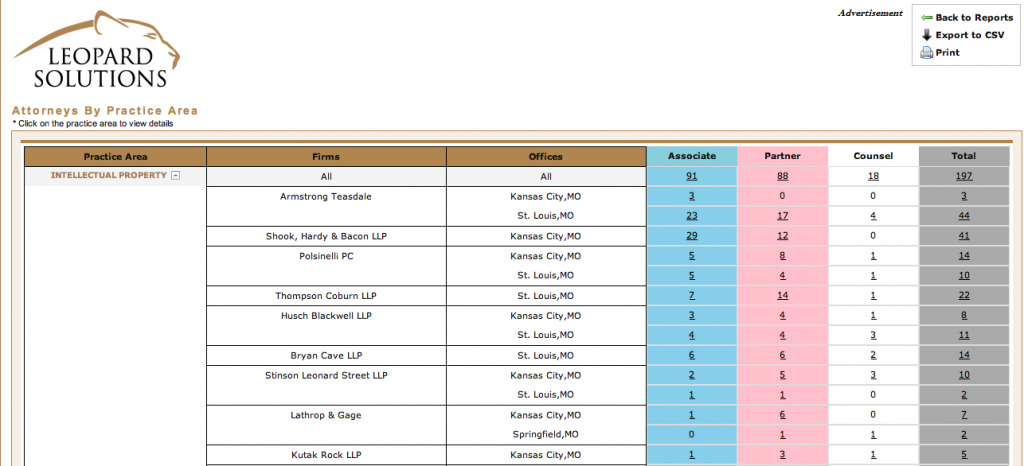 The ACC docket recently reported that Armstrong Teasdale is the firm to beat numbers-wise when it comes to Intellectual Property attorneys in Missouri. The firm has 47 associates, partners and counsel across two offices in MO, narrowly edging out the next largest held by Shook, Hardy and Bacon, LLP with 41.
Also interesting? Our data shows that Armstrong Teasdale has increased these numbers in just the past three quarters, indicating a growing interest in IP in this geographic area. More interesting? Shook, Hardy & Bacon appears to have been growing their IP department with equal pace as Armstrong Teasdale, adding 6 IP practice area and specialists over the past three quarters as well. The ACC docket's report may be a photo-finish call in a race that shows no sign of ending anytime soon.
*****
Armstrong Teasdale Has More IP Lawyers Than Other Large Missouri Firms: ACC Docket
Via Press Release, Armstrong Teasdale
November 17, 2014
Armstrong Teasdale has more intellectual property attorneys than any other large Missouri firm, according to an article in the October issue of ACC Docket magazine. ACC Docket, which is published by the Washington, D.C.-based Association of Corporate Counsel, defines a large firm as having more than 50 attorneys.
The ACC Docket rankings are based on the number of attorneys chosen for the 2013 Super Lawyers® listing, as well as a combination of metrics showing the quality of the attorneys (i.e. number of years the attorneys were listed, inclusion of "top lists" and average blue ribbon panel scores.)
Intellectual Property Today lists Armstrong Teasdale among the nation's top patent and trademark firms based on 2013 figures. The firm's practice was also listed in the Law360 IP 100 and is noted for having the largest number of intellectual property and patent attorneys in St. Louis, according to recent rankings published in the St. Louis Business Journal.
Press Release: http://www.armstrongteasdale.com/armstrong-teasdale-has-more-ip-lawyers-than-other-large-missouri-firms–acc-docket-11-17-2014/