Job Search: Tips For Discussing Compensation During An Interview
Posted on by Charisse Curiel
Job Search: Tips For Discussing Compensation During An Interview
There are not many organizations that discuss money during the first couple of interviews. If you're entering the legal industry in an entry-level support position, you must be prepared to discuss compensation. Many hiring managers are looking to fill both support and attorney positions with varying degrees of complexity so if you're asked about compensation during an interview, it is important that you are prepared to confidently discuss your thoughts. Here are a few tips.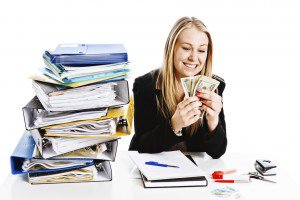 Decide to discuss or not. If you're not 100% sure about what a fair compensation package would be, you don't have to give a direct answer. You might simply say something along the lines of, "I'm looking for a competitive compensation package that takes into account my X years of experience but I would like to discuss the position more."
Consider the whole package. If you're ready to discuss numbers, you should first think about your compensation in holistic terms. Consider all forms of compensation—benefits packages, tuition reimbursement, telecommuting options, paid time off, etc. Sometimes a salary amount may be lower but there are other, less tangible, benefits that make up for the difference.
Give a range not an exact number. If you're ready to discuss numbers, don't paint yourself in a corner by giving an exact number. Give a range instead. For example, you might say $70,000 – $80,000 plus anything else you might demand of the employer. This gives the employer a little wiggle room to make an offer that will fit into what you really want.
Understand the market. You must understand what the going rate is for lawyers with your experience who are taking jobs similar to the one you're considering. Understanding the going market rate will put you in a strong position to negotiate.
Before discussing compensation during an interview, do your homework and know your worth. Subscribe to the Leopard Blog for discussions on compensation, diversity, law firm insights, and other relevant topics.
Leopard Solutions is an online resource for real-time legal data and insights for law firms, corporations, law schools, recruiters, and attorneys. Our suite of data intelligence tools helps you with business development, firmographics, marketing, and data analysis. Our tools are popular with HR teams, talent acquisition/recruiters, business development, sales, and marketing teams.