Reuters Features Leopard Solutions Data in Article on Big Law Office Opening Trends in 2021
January 14, 2022
Reuters recently published an article featuring Leopard Solutions data on Big Law office opening trends.
As Reuters reports, Northern California and Austin, Texas, continued to be top destinations for large U.S. law firms expanding into new markets in 2021, as established and emerging technology clients helped those economies flourish.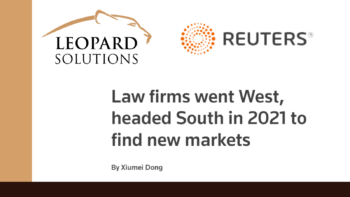 The article also noted that Utah, Colorado and parts of the Southeast also saw a notable influx of law firm openings.
"These cities have gained traction with technology companies and other businesses looking to court young, educated workers drawn to their regions' relatively cheap costs of living, access to nature and other lifestyle amenities."
John Cashman, president of global legal recruiting firm Major, Lindsey & Africa, was quoted in the article saying, "firms are responding to the tight job market and greater flexibility about work location that emerged during the pandemic…I think you will continue to see this trend of going to places where the lawyers want to live. Law firms are going where the talent is."
The high demand for legal services has continued to entice more law firms to Northern California. Some of the firms that have been there for a while venturing into Los Angeles because that could be a more fertile ground for talent.
Our data showed that the California legal market has attracted the most entrants in 2021 with 75 new offices, followed by Texas with 46 and Florida, which saw 43 offices open last year.
Read the full Reuters article.
Contact us to learn more about how Leopard Solutions data can help your law firm with your hiring needs.